Downtown Coral Gables Will Showcase Its Culinary Flair During 'Taste of the Gables'
Friday, May 29th at 6 p.m.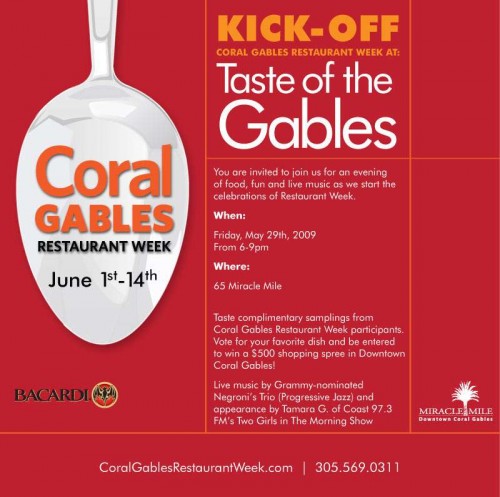 Downtown Coral Gables is proud to announce that our second annual Coral Gables Restaurant Week will get off to a delectable start with the first-ever Taste of the Gables! This complimentary event promises to celebrate our distinctive culinary scene with tastings from over 20 restaurants and live music. Mark your calendars now! Taste of the Gables, presented by the Business Improvement District and sponsored by Bacardi USA, is going on Friday, May 29th, from 6 to 9 p.m. in the Via between Tarpon Bend and Fritz & Franz (65 Miracle Mile.) The event will feature complimentary samples from Restaurant Week participants as well as live entertainment with a feature performance by Grammy-nominated Negroni's Trio, an appearance by Tamera G. of 97.3 The Coast's Those Two Girls in the Morning Show, a $500 Downtown Coral Gables shopping spree giveaway and more. Refreshing Perrier water will be provided.
For more information, visit www.coralgablesrestaurantweek.com
Restaurants Announced for Coral Gables Restaurant Week
June 1st – 14th
Start readying your taste buds, Downtown Coral Gables Restaurant Week starts Monday June 1st! With savings of over 20% off, check out the great list of restaurants including Archie's Gourmet Pizza, Bangkok Bangkok II, Cacao Restaurant, Caffe Abbracci, California Pizza Kitchen, Da Vittorio, Fleming's Prime Steakhouse and Wine Bar, Fritz & Franz Bierhaus, JohnMartin's Irish Pub and Restaurant, Le Provencal, Morton's The Steakhouse, Ortanique on the Mile, Randazzo's Little Italy, Pardo's Chicken, Por Fin Restaurant & Lounge, Red Koi Thai & Sushi Lounge, Spris, Les Halles, Tarpon Bend Raw Bar & Grill, Ruth's Chris Steak House, The Grill Club, The Sports Exchange, Two Sisters and the Westin Colonnade.
Archie's Gourmet Pizza
Bangkok Bangkok II
Cacao Restaurant
Caffe Abbracci
California Pizza Kitchen
Da Vittorio
Flemings Prime Steakhouse & Wine Bar
Fritz & Franz BIERHAUS
Hoja Nueva
JohnMartin's Irish Pub & Restaurant
Le Provencal
Les Halles
Morton's The Steakhouse
Ortanique on the Mile
Pardo's Chicken
Por Fin Restaurant & Lounge
Randazzo's Little Italy
Red Koi Thai & Sushi Lounge
Ruth's Chris Steakhouse
Spris Coral Gables
Tarpon Bend Raw Bar & Grill
The Grill Club
The Sports Exchange
Two Sisters Restaurant
For more information, updates on restaurants and a complete list of menus, please visit www.coralgablesrestaurantweek.com