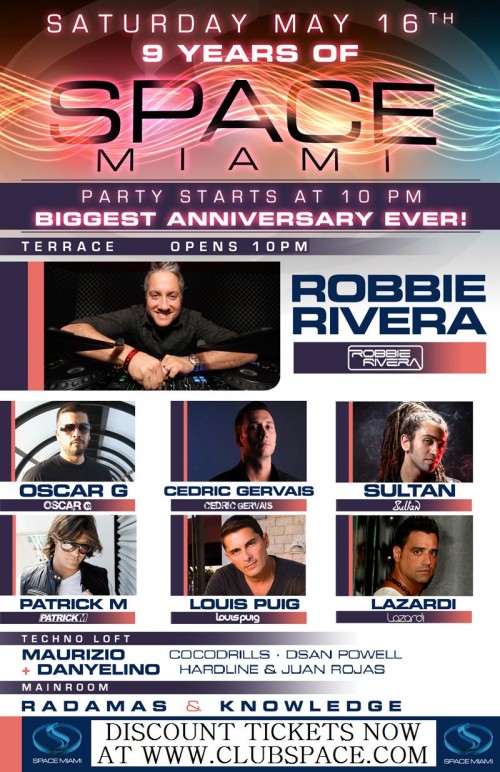 This Saturday, May 16th, the one and only legendary Club Space continues to make history as they celebrate 9 Years of Space Miami! The lifespan of a nightclub in Miami can never be guessed. Some open up shop one month, only to shut down the next, and others don't even make that year mark. But when it comes to Club Space and the excellent formatting they deliver week in and week out, it shouldn't be a surprise that everyone's favorite EDM palace is still around and better than ever. Come out this Saturday night and celebrate with Space Miami as they bring in Robbie Rivera, Oscar G., Cedric Gervais, Sultan, Patrick M., Louis Puig and Lazardi.
To reserve a table for this very special event please contact Tiffany via email at patiospacevip@aol.com or call 786.357.6456
Over 20 Dj's & thousands of people will help us celebrate 9 amazing years this weekend ….. Please be one of them
Doors & The Terrace Will Both Open At 10pm Sharp
Robbie Rivera, Sultan, Oscar G, Cedric Gervais, Patrick M, Louis Puig, Lazardi, Maurizio & Danyelino, Cocodrills, Dsan Powell, Hardline, Juan Rojas, Radamas, Knowledge, And More …….