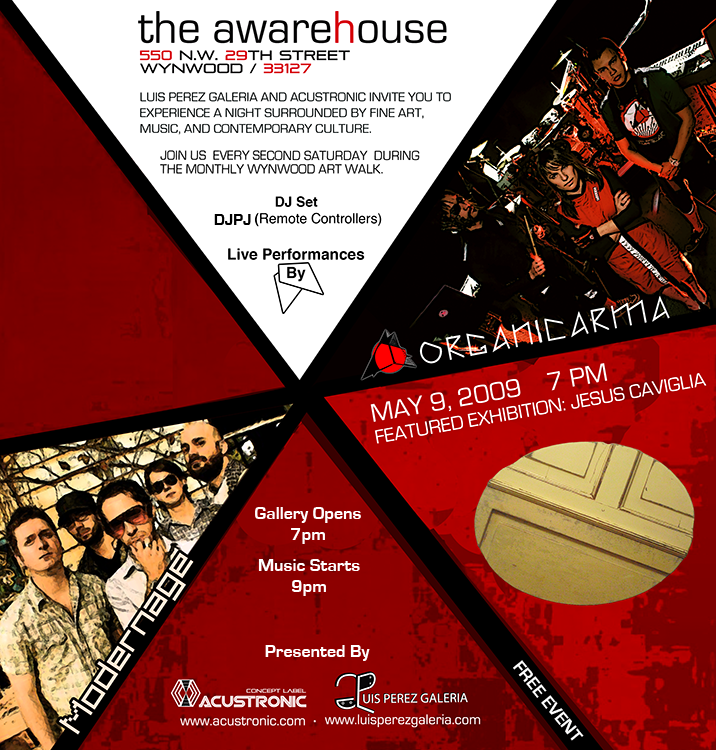 Live at The Awarehouse!
Modernage, one of the best indie-electronic rock bands to come out of Miami, and organicArma, Miami-based premier live electronic art band, will take the stage during The Awarehouse 2nd Saturday Artwalk event. DJPJ of Remote Controllers and NIGHTDRIVE fame will be opening the night with a unique & eclectic dj set. Also featured this month, Luis Perez Gallery presents fine artwork by Venezuelan constructivist Jesus Caviglia. Expect an evening of extraordinary performances, substantial people, exceptional art.
The Event is Free!
18+ are welcomed.
Modernage info: The indie quintette has toured the US east coast, Los Angeles, Mexico and all of Florida opening for major label acts such as Bloc Party, The Stills, The Walkmen, Magnet, Elefant and Peter Hook. Modernage videos have been on rotation in Mexico, South America, and various US networks including band profiles on MTV3 and Plum TV.
http://www.myspace.com/organicarma
http://www.myspace.com/modernage
www.acustronic.com | www.organicarma.com | www.luisperezgaleria.com
Thank you for using Soul Of Miami!