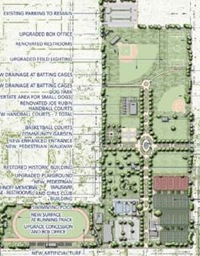 PREVIEW EXHIBIT OPENING RECEPTION
Monday 11 May
6:00 pm
Flamingo Park Masterplan
Images of Flamingo Neighborhood Improvement Program
The Flamingo Park Neighborhood Association, Miami Beach Community Development Corporation and the City of Miami Beach – CIP Department will jointly host a preview opening of a Special Exhibit of neighborhood improvement plans for Flamingo Park and Neighborhood Streetscape Improvement Projects.
Immediately preceding the 6:00 pm exhibit opening, the Flamingo Neighborhood Association will convene a brief business meeting, 5:00 to 6:00 pm to discuss special event applications.
The Neighborhood Exhibit presents images of the Flamingo Park Masterplan and Neighborhood Streetscape Improvement Projects for the information of residents of the area – bordered by Fifth Street on the South, Lincoln Road on the North, Washington Avenue on the East, and Alton Road on the West. This exhibit preview coincides with celebration of the 30th Year Anniversary of the Recognition of the Miami Beach Art Deco Architectural District on the National Register of Historic Places.
The City of Miami Beach Office of Capital Improvement Projects is working with architects/designers Wolfberg Alvarez on the Flamingo Park Masterplan which will include removal of the Property Maintenance, a new tennis center, upgrade of the tennis courts, improvements to Memorial Field football and track facilities, upgrade of restroom facilities, community garden, restoration of the historic building, improved pathways and edge treatments, enhanced landscaping, security lighting, site furnishings and other park improvements.
Proposed Neighborhood Improvements include water and stormwater projects to be funded by Water and Stormwater Bonds as well as above ground Streetscape Improvements primarily funded by G O Bonds. The Streetscape Improvement program evolved from a series of recommendations that emerged from resident initiated community design charrettes and City sponsored workshops.
Community Design Recommendations included:
Improvement in the way Flamingo Park relates to the Neighborhood
Increased native shade tree canopy protecting pedestrians from sun & rain
Slow down auto traffic on neighborhood streets through traffic calming
Use street corner landscaping and facilitate shorter pedestrian street crossings
Improve neighborhood connection to Biscayne Bay
Create a pedestrian Safe-way from Fisher Fienberg to Flamingo Park
Introduce Neighborhood Entrances and Pathfinder Signage
Provide pedestrian scale street lighting throughout the neighborhood
Create a strong pedestrian Link from Lincoln Road to Espanola Way to Ocean Drive
Repair, replace street pavement, sidewalks, curb and gutter and crosswalks
The project program adopted by the City Commission includes improvement to water distribution system, stormwater drainage system and streetscape improvements:
Traffic calming improvements to Euclid Avenue with narrow lanes and tree canopy
Extending landscaping and pedestrian amenities along Meridian Ave to Lincoln Rd
Creating Flamingo Park entrance features and School to Park Pedestrian Walk
Traffic calming – crosswalks and landscaped corners throughout the neighborhood
Pedestrian walkways along Tenth Street, 14th Street West, and 13th Street East
Special treatments along Pennsylvania Avenue creating a Plaza at 8th Street
Organizing the parking and swale west of Flamingo Park in Residential Area
Introducing Neighborhood Gateways between 5th and 6th Streets and other projects
All residents of the neighborhood are invited to attend and to participate.
Location: The Seymour, 945 Pennsylvania Av, Miami Beach
Information: 305-672-4782 or email to Denis Russ denis@miamibeachcdc.org
Thank you for using Soul Of Miami!