SoBe Institute of the Arts / SoBe Music Institute
Friday, May 15, 2009 8:00pm – 11:00pm
2150 Washington Avenue, Miami Beach, FL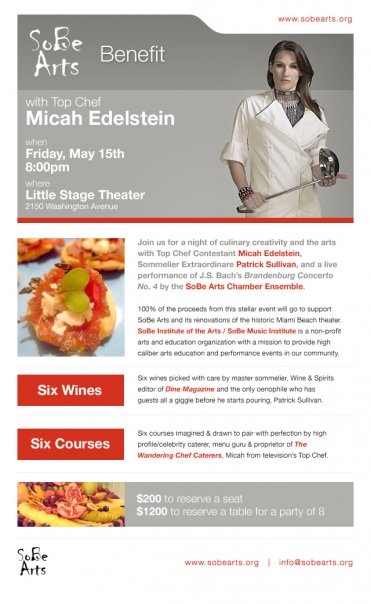 A Sobe Arts Culinary & Music Feast With Top Chef Micah Edelstein, Sommelier Patrick Sullivan & Sobe Arts Chamber Ensemble
When: Friday May 15, 2009 at 8:00PM
Where: Sobe Institute Of The Arts / Sobe Music Institute
2150 Washington Avenue, Miami Beach
Join Us For A Night Of Culinary Creativity And The Arts With Top Chef Contestant Micah Edelstein, Sommelier Extraordinaire Patrick Sullivan And A Live Performance Of J.S Bach's "Brandenburg Concerto No. 4" By Sobe Arts Chamber Ensemble. Large Scale Painting Exhibition By Horst Kohlem.
Only 56 Tickets Available – Tickets Must Be Purchased In Advance (See Below) – Thank You From The Heart Of Sobe Arts!
100% of the proceeds go to SoBe Arts and renovations of the historic Miami Beach Little Stage theater. SoBe Institute of the Arts / SoBe Music Institute is a non-profit arts and education organization with a mission to provide high caliber arts education and performance events in our community.
Six wines picked with care by master sommelier, Wine & Spirits editor of "Dine Magazine" and the only oenophile who has guests all a giggle before he starts pouring, Patrick Sullivan
Six courses imagined & drawn to pair with perfection by high profile/celebrity caterer, menu guru & proprietor of "The Wandering Chef Caterers", Micah from television's Top Chef.
SoBe Institute of the Arts is a 501 (c)(3) non-profit arts & education organization. All tickets to the benefit are tax-deductible as allow by law.
Tickets may be purchased by credit card on our website at http://www.sobearts.org
Tickets may be purchased by cash or checkat at SoBe Arts, 2150 Washington Avenue, Miami Beach. Contact Silvia Lorenzo 305.674.9220 to make arrangements or for more information. (Please note: there are only 56 places available)
Purchase directly using a credit card at the links below:
To reserve 1 to 7 places ($200) – buy online.
To reserve a table for a party of 8 ($1200, at a savings of $50 per ticket) – buy online.
Please Come For A Great Event And Support Sobe Arts Mission At The Same Time!
We Will Also Have A Wonderful Silent Auction Available Online In Support Of Sobe Arts. Premiums Will Include A Pair Of Season Tickets To The Miami City Ballet And A Pair Of Season Tickets To The Florida Grand Opera And Much, Much More – Stay Tuned