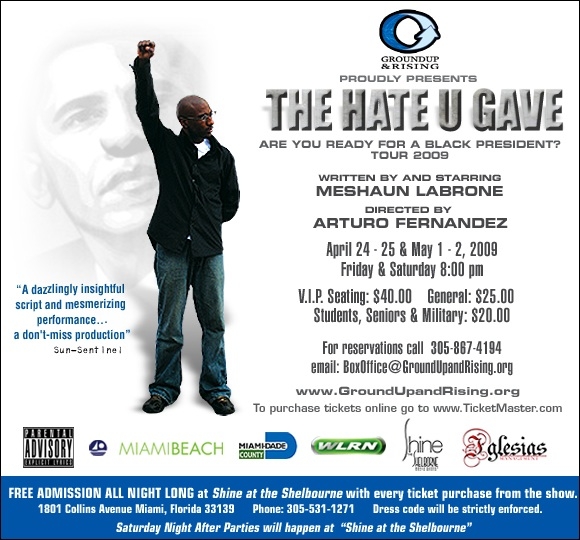 Directed by Arturo Fernandez
Written by & Starring Meshaun Labrone
From Carbonell nominated and critically acclaimed South Florida actor / playwright Meshaun Labrone comes The Hate U Gave: The Tupac Shakur Story, an incendiary journey into the mind of Tupac through the playwright's eyes. The intensity unfolds inside the mind of a man imprisoned by his past, society, self, reality, and regret, as he fights to wrestle away freedom from the enemies that lie within. His adversaries are reflections from his thoughts, each character representative of the demons that haunted his life, mind, and soul until his death.
Venue: The Byron Carlyle Theater*
Dates: May 1st – 2nd, 2009
Where: 500 71 Street, Miami Beach, FL 33141
Time: Friday & Saturday: 8:00 pm
Admission: VIP Seating: $40.00
General: $25.00
Seniors, Students & Military: $20.00
Reservation: BoxOffice@groundupandrising.org
Or call 305-867-4194
Purchase Tickets Online