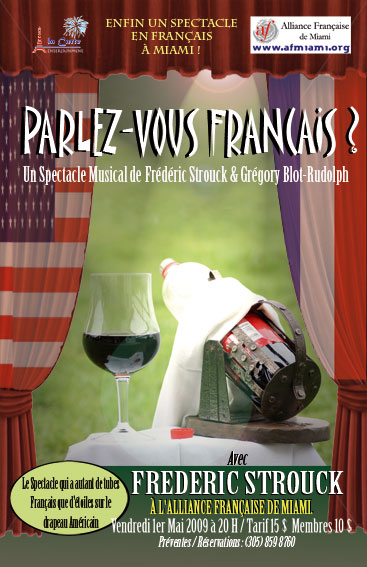 "Parlez-vous français ?"
Cabaret-Concert by French Artist Frederic STROUCK
The incredible adventure of a French teacher who decided to go and live his american dream. The evolution of his teenage point of view make him face today's US reality … The tone is very humoristic and the show is based on a recital of French tunes that became worldwide hits (My way, Beyond the sea, What now my love, where do I begin, …)
General Admission: $15 / $10 for members
Frédéric Strouck's career has been far from typical. After studying science and armed with a passion for lighting design, he began by studying cinema in view of becoming a director of photography. Simultaneously, he taught himself the piano and started composing his first songs. Increasingly interested by the relationship between music and dramatic art and the use of music in film and opera, the works of composers including Stephen Sondheim and Claude-Michel Schönberg inevitably led him to what was to become a passion for musical theatre.
Encouraged by a friend and never having considered himself as a singer, Frédéric auditioned for the 1996 production of FAME, played the part of Nick Piazza and went on to perform in shows including: PIAF JE T'AIME, HAIR, the German production of LES MISERABLES and spent five years with Jerome Savary's company at the Opera Comique. During this time, he continued his career as a composer, writing various jingles and theme-tunes and in 2000, was commissioned by Pascal Pistone to orchestrate his contemporary musical PETER. With co-author Grégory Blot-Rudolph, he began to write and their first musical LES 7 PECHES CAPTEAUX based on a concept of song parodies in a super-market, was performed at the Gymnase Marie Bell theatre, Paris in May 2004. Following interest from television companies, Frédéric and Gregory were soon invited to adapt the show into what became SOAPERETTE, a series of short musical programs that were to invent a new kind of "fictional-variety" show! Directed by Gilles Amado, the series was aired on FOX-Life, NRJ12 and PLUG-RTL in 2007 and 2008. Working as actor, author and musical director on the show not only furthered Frédéric's already multi-facetted career but also led to him being asked to direct Marie Orlandi's performance as Piaf at the Olympia Theatre, Paris in July 2007.
Frédéric Strouck a un parcours artistique assez alambiqué. Après des études scientifiques, passionné par la lumière, il s'engage dans des études de cinéma dans le but de devenir directeur de la photographie. En parallèle, presque par bravade, il se met au piano et commence, en autodidacte, à  composer ses premières chansons. Extrêmement intéressé par les rapports qu'entretiennent la musique et la dramaturgie, il va s'orienter vers les musiques qui sont au service d'une intrigue et les intrigues qui servent la musique (l'opéra, la musique de films,…) C'est assez naturellement qu'il découvre l'univers de la comédie musicale anglo-saxonne pour lequel il aura une attirance démesurée : associant la richesse d'univers musicaux des plus hétéroclites à  une certaine forme d'emphase et un fort rapport à  l'intrigue, il reçoit comme un éléctro-choc l'écoute des spectacles de Stephen Sondheim ou de Claude-Michel Schönberg. Poussé par une amie, il se décide, alors qu'il ne se considère pas comme un chanteur, à  passer une audition pour le spectacle " Fame " en 1996, il sera engagé pour le rôle de Nick Piazza et enchainera alors en tant qu'interprète des spectacles comme " Piaf, je t'aime ", " Hair ", " Les Misérables " (en Allemagne), puis intégrera la troupe de Jérôme Savary à  l'Opéra Comique pendant 5 ans. En parallèle, il poursuit son parcours de compositeur en écrivant quelques génériques et jingles pour la radio et se met à  l'orchestration symphonique sur la commande d'arrangements de Pascal Pistone et de sa comédie musicale contemporaine " Peter " en 2000. Il se lance alors dans l'écriture et c'est avec son co-auteur complice Grégory Blot-Rudolph qu'il accouche du spectacle musical " Les 7 Péchés Capitaux " qui sera joué au théâtre du Gymnase Marie Bell à  paris en Mai 2004. Le concept du spectacle qui repose sur la contextualisation de parodies de chanson dans une intrigue sous forme de huis clos dans un supermarché intéresse alors la télévision. Avec Grégory, il adapte le concept de leur pièce pour créer " Soaperette ". Ce programme court musical qui invente la " variété-fiction " sera réalisé par Gilles Amado et diffusé courant 2007/2008 sur les chaines FOX-Life, NRJ12, et PLUG-RTL. Cette expérience multiplie encore ses casquettes en le faisant travailler en tant qu'auteur, interprète, mais lui demande également de gérer l'artistique et la direction musicale. On lui propose alors de diriger Marie Orlandi dans son interprétation de Piaf sur la scène de l'Olympia en Juillet 2007.
More information at http://www.myspace.com/fredericstrouck