Miami's Best Arts and Music Festival on the last Friday of every month
Friday, Apri 24th, 2009. From 6:30 – 11:00 p.m.
On SW 8th Street (Calle Ocho) between 13th and 17th Avenues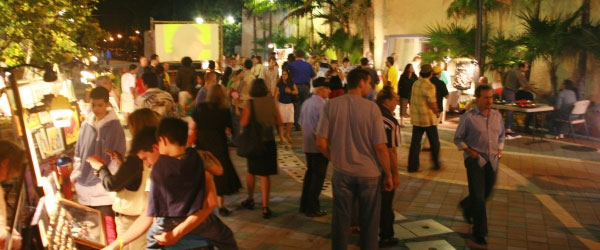 Friday's Free Fun Fest. You can not miss the next Viernes Culturales / Cultural Fridays
SCHEDULE OF EVENTS
7:00 p.m. – Free History Walking Tour of Little Havana led by RENOWNED HISTORIAN Dr. Paul George. (Meet in front of Tower Theater)
Events at Main Stage (15th Avenue and SW 8th Street)
8:00 – 9:00 p.m. – Pavel DC
9:00 – 10:00 p.m. – The Old Falcons
10:00 – 11:00 p.m. – Alexis y su Sabor Habanero
MUSIC / MUSICA
Alexis y su Sabor Habanero (10:00 – 11:00 p.m.)
Sabor Habanero was established in New Jersey in February 2003 by its current director Alexis Llerena with the collaboration of talented Cuban musicians. Soon, the band became known in the community for their work and good music. The group is composed of great musicians and their musical structure consists of two trombones, a trumpet, three singers, congas, timbales, bongo, bass and piano. Sabor Habanero is characterized by a continuity of Cuban music while respecting the parameters of son. In their songs you can appreciate the training of their musicians bringing the traditional Cuban son with contemporary arrangements.
The Old Falcons (9:00 – 10:00 p.m.)
The Old Falcons is a music band that plays Pop, Rock, Country Rock, and ballads of the prodigious decades of the 60's and 70's. Established in May 2008 it aims to revive the memories and emotions that this music has left in our lives. The Old Falcons honors groups Cuban bands such as "Los Kent", "Almas Vertiginosas" among many others. The group is composed by eight members, Ernesto Llorente (Percussion), Carlos Acosta (drums), Miguel Cabanas (congas, bongos), Eduardo Sarg (keyboards), Riki Montana (vocals), Roberto Marin (Bass), Nelson Pelaez (First Guitar and director musical), Carlos Gonzalez Falcon (second guitarist and manager).
Pavel D.C. (8:00 – 9:00 p.m.)
Pavel D.C. was born in Cuba in 1976 and at the age of 19 he migrated to Italy where he studied vocals and piano in the city of Bologna. Pavel began his artistic career as singer of traditional Cuban music. He has explored various Latin rhythms such as Salsa, Bachata, Merengue and Balada. His most recent musical works have been include songs that are part of record productions as "Dancing Salsa Vol 1" and "Welcome to Salsopoli"
ART / ARTE
Cremata Gallery
The gallery presents an exhibition by artist Juan "Erman" Gonzalez, (Cuba, 1956) titled "Paraiso Fabricado". A multi media artist whose series based, theme driven works are rooted in migration and informed by family. There is no celebration of freedom or The American Dream inherent in the forms. Instead, there's an intentional study to analyze history, displacement, and trans- culture resulting from exile. The process is utilitarian and akin to traditional art forms like sewing and object making. Erman operates from a different ethos comparable to techniques of collage and assemblage long thought to echo and materialize remembrance. His works form part of the permanent collection of the Miami Art Museum and many private collections such as Carl and Toni Randolph's and Craig Robbins'. He has been the invited guest lecturer of Edna Manley College in Jamaica, FIT in NYC and Colorado State University among others. Erman's work has been exhibited widely throughout the Caribbean, Brazil and nationally, most recently at Lincoln Center in Colorado and Arteamericas in Miami Beach. Come to the gallery on Viernes Culturales to have a glass of wine, see his latest work and meet the artist. Exhibition runs through May 16th. For more information and images regarding this exhibition, please visit our website.
1646 SW 8th Street. Miami, FL 33135. Ph: 305.644.3315
Email: cremata@crematagallery.com. Website: www.crematagallery.com
EVENTS / EVENTOS
Free History Walking Tour of Little Havana led by RENOWNED HISTORIAN Dr. Paul George. (Meet in front of Tower Theater) 1508 SW 8 Street, Miami, FL 33135. (7:00 p.m.)
Calle 8 Gallery Openings
19 Galleries open their doors to the public during Viernes Culturales / Cultural Fridays
Between 17th and 13th Avenues. (7:00 – 10:00 p.m.)
Viernes Culturales / Cultural Fridays, Inc.
742 SW 16th Avenue
Miami, FL 33135
Ph: 305.643.5500
Fax: 786.999.8894
info@viernesculturales.org
www.viernesculturales.org