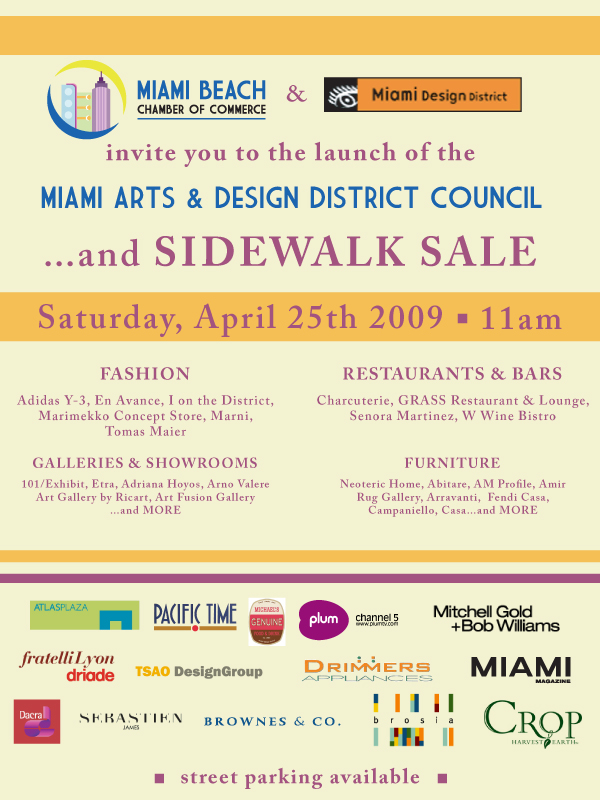 Miami Beach Chamber of Commerce and Miami Design District invite you to the launch of the Miami Arts & Design District Council and Sidewalk Sale
Saturday, April 25, 11am
Fashion
Restaurants & Bars
Galleries & Showrooms
Furniture
MBCC Miami Arts and Design District Council Launch and Sidewalk Sale Saturday, April 25th
The Miami Beach Chamber of Commerce and the Design District invite you to the official launch of the MBCC Miami Arts and Design District Council and Sidewalk Sale Saturday, April 25th at 11am. Enjoy the District's fashion boutiques, restaurants, bars, galleries, showrooms and furniture stores along with an introduction to the Chamber's newest council.
Street Parking is available
The New Miami Arts & Design District Council of the Miami Beach Chamber is launching the first event of many new and exciting events to promote the Design District this month. We are planning regular and very special events to increase traffic and make the Design District a MAJOR UPSCALE SHOPPING DESTINATION!
Please become involved, your collective participation is key to our success.
SATURDAY APRIL 25TH 11AM
The Miami Beach Chamber of Commerce & the Miami Design District
look forward to your participation in our
SIDEWALK SALE
to launch the
MBCC MIAMI ARTS & DESIGN DISTRICT COUNCIL
Chair Rusty Atlas, Atlas Plaza – Miami Design District
Co-Chair Maria Ruiz, Dacra
Among those receiving invitations to this event will be the Miami Beach Chamber of Commerce's 1000+ Members!
The event is sure to bring HIGH END SHOPPERS to the District!