Sweat's FOURTH ANNIVERSARY AND RECORD STORE DAY 2009!!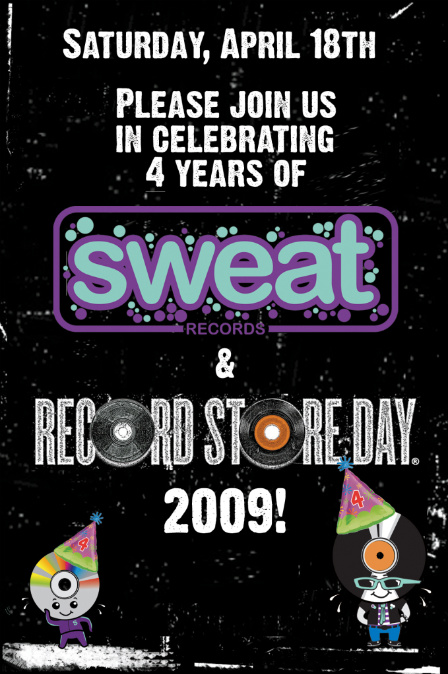 It's hard to believe it's already been 4 years since we opened up our little shop on 23rd St. in early 2005, and we're so happy to still be here with all of you in our home on 55th St. and NE 2nd Ave. We've been through a lot but it's been worth it 100%.
Not only that, but Record Store Day has gotten HUGE. It's become a global phenomenon, with over 1,000 participating stores worldwide, loads of exclusive releases, artist support from Paul McCartney on down, and the Mayor of New York City even made an official proclamation about it! You can check out some local press on Sweat and RSD here:
Miami Herald: Hoping for another record-setting event
Miami New Times: International Record Store Day
CoolJunkie.com: Sweat Records Celebrates 4-Year Anniversary!!!
In order to celebrate RSD '09 and to thank Miami for 4 awesome years, we invite you to the shop tomorrow night!! Here's what you can expect:
Exclusive releases from your favorites – Pavement, The Stooges, Dandy Warhols, Arthur Russell, The Black Kids, The Smiths, Jenny Lewis, My Morning Jacket, Sonic Youth, Bob Dylan and many more!
DJs Mike Deuce and Laura of Miami (WVUM)
A live in-store performance by Miami's own PANIC BOMBER
Vinyl, vinyl, and more vinyl! We are stocked UP.
The Feverish Ice Cream Truck will be parked outside!
Loads of free CDs, buttons, stickers, posters and other swag
Free cupcakes, a Sacre Bleu wine tasting, kegs and treats!
A special bonus live performance by RACHEL GOODRICH
This party is FREE, from 6pm to midnight, and open to everyone.
Extra thanks to Sacre Bleu (check out their not-just-wine blog at finewhineblog.com), WVUM 90.5 FM, District Print, The Vagabond, Bacardi, and Yelp.com for helping out with this event.
Come out and toast with us to the next 4 years!!!!
Btw, you can also celebrate Record Store Day locally at Radio-Active Records (FTL), Uncle Sam's and Selected Records – make the rounds and support!!