RSVP IS NOW CLOSED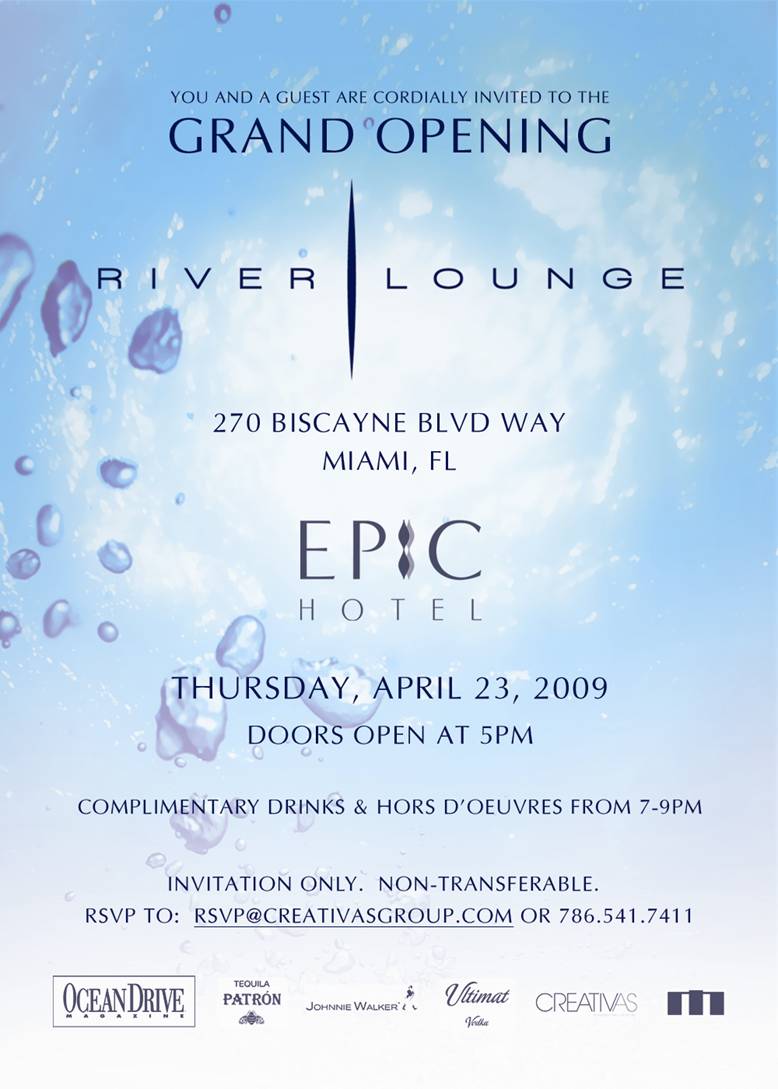 The grand opening of River Lounge this April 23, 2009 will solidify it as THE venue for the patron who appreciates style, art, design, fashion, and South Florida's amazing cultural mix. With all of the elements that would exemplify a Miami hotspot, River Lounge is "bringing classy back". Located in the Epic Hotel and Residences in Downtown, River Lounge represents what the outgoing professional deserves.
River Lounge is geared to be the pinnacle of Miami Downtown nightlife, ideally situated on the Miami River with a breathtaking view. Designed by nationally renowned Telesco & Associates, the über chic lounge boasts majestic 30ft ceilings, LED lighting, circular bar, flat screen TVs, custom lighting fixtures and custom lounge furniture. The second floor features a more intimate setting. One of the elements that set River Lounge apart is that guests have the option of arriving either by car or boat. The outdoor terrace is the perfect spot to enjoy cocktails, while gazing at the panoramic view of the river, lined by some of Miami's most impressive high-rises.
Co hosted by Ocean Drive Magazine the grand opening of River Lounge plans to be a spectacular affair that will leave guests dazzled as River Lounge is ramping up to be Downtown Miami's go to spot. Guests at the River Lounge grand opening sponsored by Patron Tequila, Johnny Walker Black, and Ultra Vodka can expect an evening filled with VIPs, cocktails, and music by DJ Walter Capote. The evening will include a formal ribbon cutting ceremony including Mayor Manny Diaz, celebrities including: Adriana Catano, Nicolas Felizola, Liset Alea, Carlos A. Navarro, Natalia de La Cruz, Tito Puente Jr, Karol Rosa, Jorge Moreno and many more. River Lounge plans to take the Miami nightlife scene by storm. The VIP/media reception is from 7-9pm but guests will enjoy past that time as the venue will host South Florida's most active professionals and A-listers.
The brainchild of Sunset Entertainment Group's dynamic duo Chris Breed and Michael Gruber, it's no doubt that River Lounge will be one of Miami's A-list favorites. The gentlemen have been recognized for such successful and legendary venues as The Tropicana and Teddy's at the Roosevelt Hotel, Cabana Club, Sterling Steakhouse, Green Door, and the White Lotus to name a few. Breed, who was called the "King of Hollywood" by the Los Angeles Times, came into the scene in 1990, when he opened the Roxbury Supper Club. The venture has been credited with sparking the "Renaissance of Hollywood". Collectively, Breed and Gruber (who has an extensive history representing some of the world's biggest stars), bring to Miami their expertise dealing with high-end clientele and celebs from all over the map, topped with a dose of "Big Apple" flare. This unique combination will make this venue stand out as a classy one.
River Lounge will feature a unique cocktail list including a one-of-a kind signature martini list. Complete with delicious bites, great music, surrounded by beauty, River Lounge will set a new standard in Miami. Conveniently located on the mainland, away from South Beach, this visually-captivating space will cater to the active professional, corporate and social scene. River Lounge, with all its amenities, flawless décor, seasoned staff, and regarded ownership will be synonymous with "Miami" and a "fabulously good time".
The grand opening for River Lounge will take place, Thursday, April 23rd, and will be co- presented by Ocean Drive Magazine. Guests can expect an evening filled with VIPs, celebrities, cocktails, and music as River Lounge plans to take the Miami nightlife scene by storm.
River Lounge is located inside the Epic Hotel & Residences located at 270 Biscayne Boulevard Way, Miami, FL 33131. The venue will be open six days a week. For RSVP: UPDATE – LIST IS NOW CLOSED