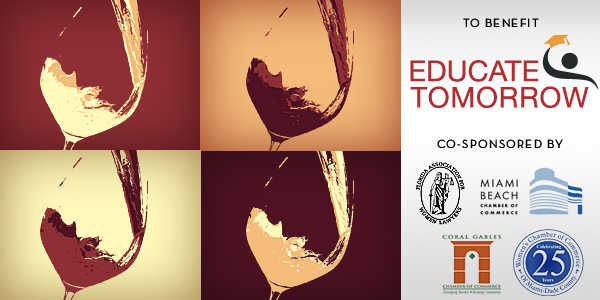 JOIN THE FUN AT THE 6TH ANNUAL WINE TASTING
MAY 8, 2009
COCO PLUM WOMAN'S CLUB
Cocoplum Women's Club
1375 Sunset Drive
Coral Gables, FL 33143
Join us as ET and its friends and supporters welcome Spring with our annual wine tasting. This year's event promises to be the best yet. Enjoy the beautiful surroundings of the Coco Plum Woman's Club while sipping wines from Chateau St. Michelle, among others, and enjoying refreshing caipirinhas made from Leblon cachaca. Delicious edibles provided by several local restaurants, including Smith & Wollensky, Mary & Mo Catering, and Fresh Cafe.
The event honors: Wine News for its twenty-five years of support for local and national children's charities. Purchase your tickets on-line at www.educatetomorrow.org.
proudly presents its 2009 food and wine vendors
Chateau St. Jean
TAZ
Martini & Rossi
Chateau Ste Michelle
S Selections, LLC
National Wine Distributors
Montesque
Billington Wine
Indigenous
Premier Beverage
Leblon liquor
Rockstar Energy Drink
Smith & Wolensky
Jaguar
Cuatro Leches
Coco Plum Women's Club
Two Chefs
Fritz & Franz
After Party to Follow at Jake's
* The generosity of these organizations has made this event possible. Thank you!
WARM UP WINE SEMINARS
WINE 101: Tasting Skills
Impress your friends, clients and even your boss with your refined knowledge of wine tasting. This 15-minute session will cover the basics, and will provide "the novice" with a few very valuable tools to use for the evening tasting and for the rest of your life. Attend one or more sessions. See www.educatetomorrow.org/events for the full details.
Time: 6:00 – 6:15
Admission includes Wine Tasting
Special Guest Instructor: Abraham Horowitz, Wine News Tasting Panel Member
INTERMEDIATE WINE: What's Your Wine IQ?
French, Spanish, or Italian tonight? White or red? Wine has legs? Do you have vino anxiety and defer to friends to order wine? Gain the confidence to take control of the wine menu at your next client meeting or on your next date. In this session, you will learn how to order the best wine and not go broke in the process! See below for more details.
Time: 6:20 – 6:35
Admission includes Wine Tasting
Special Guest Instructor: Abraham Horowitz, Wine News Tasting Panel Member
ADVANCED WINE: The Rule Is, There Are No Rules!
So now you think you know everything? In this session, you will learn a few extremely valuable insider aspects of wine that will enable you to stump even the experts. Join the connoisseur ranks and take control of the wine list forever! See below for more details.
Time: 6:40 -6:55, (wine tastings will follow)
Admission includes Wine Tasting (Buy Tickets, Click Here)
Special Guest Instructor: Abraham Horowitz Wine News Tasting Panel Member
Show Your Support – Purchase Tickets Today!
Educate Tomorrow's 6th Annual Wine Tasting & Silent Auction
Honoring Wine News Magazine for its 25 years of support for local and national children's charities
DATE: May 8, 2009
TIME: 6:00 PM to 9:00 PM
Wine Seminars Starting at 6PM, Silent Auction to Close at 9PM
LOCATION: Coco Plum Woman's Club, 1375 Sunset Drive
Coral Gables, Florida 33143
TICKETS: $75 in Advance; $100 at the Door
Admission includes access to Wine Seminars
Tickets
ENTERTAINMENT DONATED BY: NIGHTSCAPE BAND