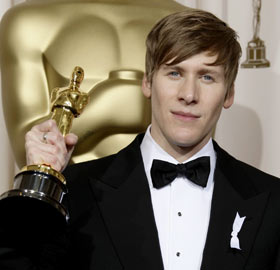 AcademyAward Winner
Dustin Lance Black
Thursday, April 16, 2009
7 P.M
Mary Ann Wolfe Theater, Wolfe University Center,
FIU Biscayne Bay Campus
3000 NE 151st Street, North Miami, 33181
Dustin Lance Black, the Academy Award-winning screenwriter behind the movies MILK, which chronicled the story of gay-rights activist turned politician Harvey Milk, and PEDRO, the moving film on the life of Aids activist Pedro Zamora will speak at Florida International University's Biscayne Bay Campus at 7 p.m. The event is free for students, faculty and staff. For the general public, there is a suggested donation of $20. 100 percent of your donation will benefit the BBC Excellence Fund.
PRODUCERS CIRCLE
Post-Lecture VIP Reception
Exclusively for MGLFF Producers Circle & MDGLCC Corporate Members
Enjoy complimentary wine and have the opportunity to meet Academy Award winner Dustin Lance Black. Join us as for a lovely evening with the brilliant screenwriter of MILK & PEDRO, and celebrate with community leaders as we gear up for the 11th Annual Miami Gay & Lesbian Film Festival. Call 305-534-9924 to RSVP
Thank you for using Soul Of Miami!