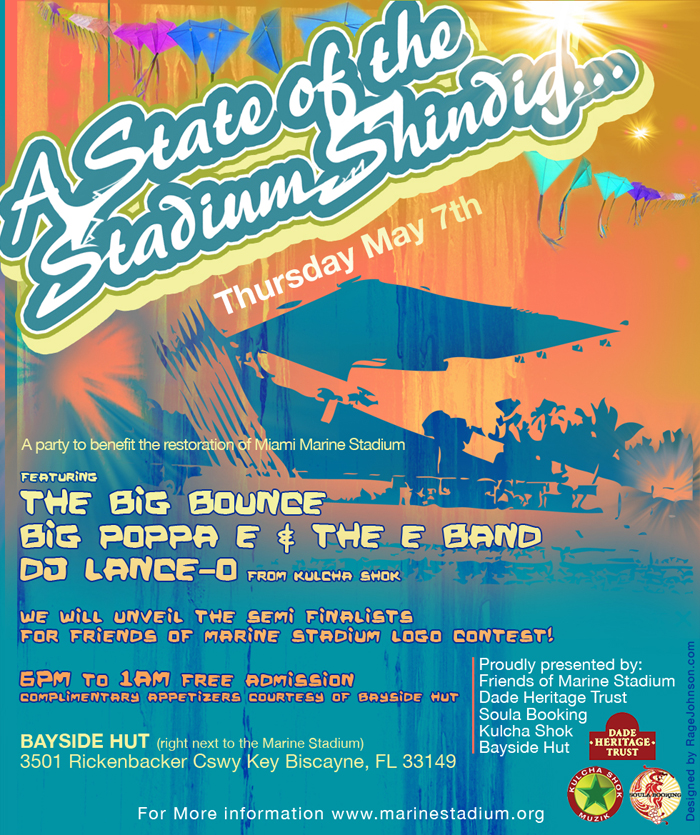 The event is Thursday, May 7, 6:00 PM-1:00 AM, at the Bayside Hut (right next door to the Stadium). We have three live bands, DJ Lance-O, hors d'ouvres courtesy of the Bayside Hut, a cash bar-and free admission!.
We'll also unveil the semifinalists for our logo contest at the party. Friends of Marine Stadium needs a logo! We've attached the guidelines to this email-anyone can enter. The winner gets $250, plus the satisfaction of branding a big cause. The semifinalists will also be displayed on our website.
A big thank you to Violette Sproul and Lizzie Easton for putting this together, and to Bayside Hut, for hosting the event. Please feel free to forward the party invite!
Other News
The Marine Stadium was featured in the April issue of Dwell Magazine, a highly respected national magazine of modern architecture and design. You can find the article in the press section at our website, www.marinestadium.org. And if you haven't been back lately, take a lap around the "letters of support" section to see some new additions. We continue to quietly work on a number of fronts.
Friends of Marine Stadium.
www.marinestadium.org.