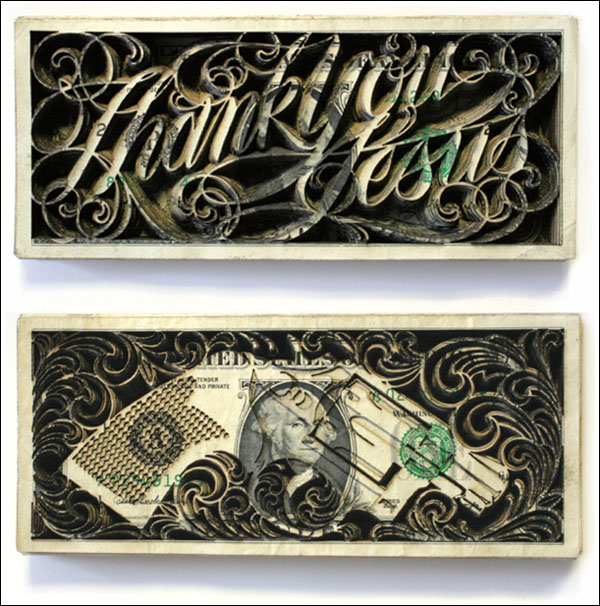 SCOTT CAMPBELL – MAKE IT RAIN
O.H.W.O.W. proudly presents SCOTT CAMPBELL
Opening April 11, 2009 – In what will be his first major solo presentation of his works, Campbell will showcase his unique aesthetic via sculptures, paintings, drawings and photography. Scott Campbell was born and raised in a fishing camp, perched alongside a muddy bayou in rural Louisiana. With a clever knack for drawing and a fondness of stories, he began his career by doing illustration and assistant editing. Curiosity soon led him to experiment with tattooing and his immediate mastery of the art was undeniable. After a subsequent 18 month stint in Spain honing his craft, he packed up his skills and his tattoo machines and traveled for the next 5 years taking inspiration from the art and folklore of tattoo cultures all over the world.
In 2004, he opened Saved Tattoo in Williamsburg, Brooklyn. Since then, it has grown to be the East Coast's premier tattoo shop with a devout following of celebrity clientele. Campbell has the taken the blue collar grit and lore of tattoo culture and extracted a visual language and wit that are supremely refined and deliberate. He has an uncanny ability to tell a story with any medium, flesh or otherwise.
Recently, Campbell has been featured in group exhibitions at the IIleana Tounta Contemporary Art Centre in Greece, the Massimo Carasi gallery in Milan, Italy, Colette in France, Moeller Snow Gallery in New York, and O.H.W.O.W. in Miami during Art Basel Miami Beach.
ABOUT O.H.W.O.W.: Aaron Bondaroff and Al Moran's Our House West of Wynwood (O.H.W.O.W.) is Miami's most exciting high profile art space. Designed by Rafael de Cardenas of Architecture at Large, the venue features prominent international and U.S. based experimental art as well as innovative contemporary art forms through an alternative cross-disciplinary perspective.
OPENING RECEPTION
DJ set by Leo Fitzpatrick
8pm – midnight
SPECIAL THANKS Grolsch
3100 NW 7 Avenue
Miami, Florida 33127
305.633.9345 office
305.637.3443 fax
info@oh-wow.com