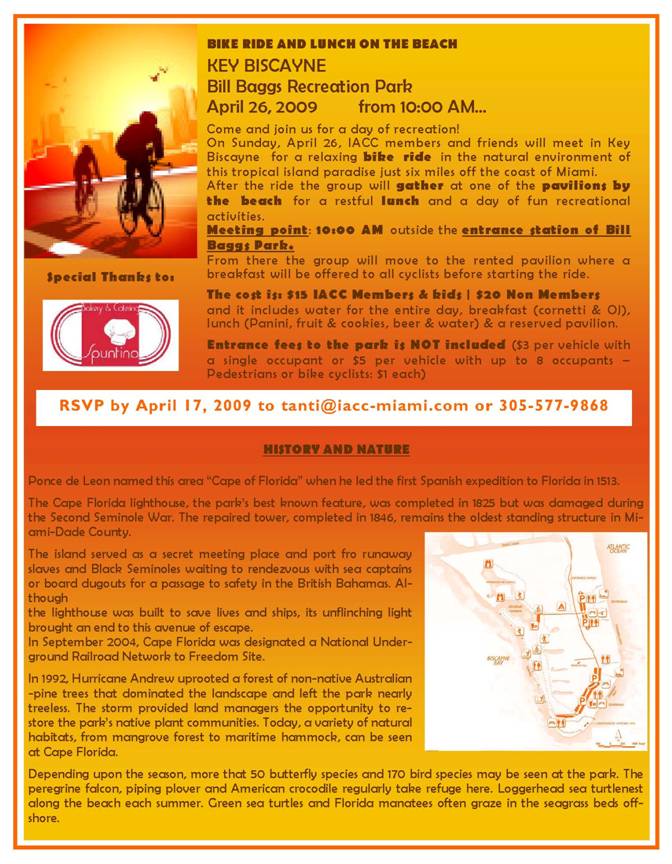 Please make sure to REGISTER by APRIL 17, 2009.
If you don't have a bike… rental bicycles are available at the Park or
simply register for a lunch on the beach and a fun day of recreational activities.
KEY BISCAYNE
Bill Baggs Recreation Park
April 26, 2009 from 10:00 AM…
Come and join us for a day of recreation!
On Sunday, April 26, IACC members and friends will meet in Key Biscayne for a relaxing bike ride in the natural environment of this tropical island paradise just six miles off the coast of Miami.
After the ride the group will gather at one of the pavilions by the beach for a restful lunch and a day of fun recreational activities.
Meeting point: 10:00 AM outside the entrance station of Bill Baggs Park. From there the group will move to the rented pavilion where a breakfast will be offered to all cyclists before starting the ride.
The cost is: $15 IACC Members & kids | $20 Non Members and it includes water for the entire day, breakfast (cornetti & OJ), lunch (Panini, fruit & cookies, beer & water) & a reserved pavilion.
Entrance fees to the park is NOT included ($3 per vehicle with a single occupant or $5 per vehicle with up to 8 occupants – Pedestrians or bike cyclists: $1 each)