Sonya Blesofsky
New Work
April 11th – May 2nd, 2009
Opening Reception April 11th 7 – 10 p.m.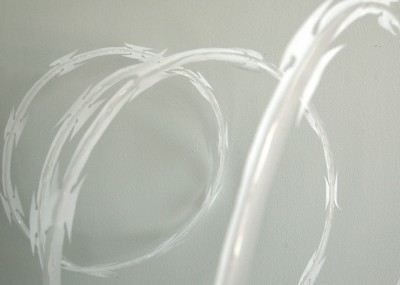 Sonya Blesofsky is a sculptor and installation artist living in Brooklyn, New York. Her work is comprised of predominantly destructible, fragile materials that are warped to re-create various architectural elements. In New Work, Sonya will draw from the gallery's immediate surroundings. The installation will address the ways in which people and businesses in Wynwood build structures to protect themselves and their possessions. The installation will contain barbed wire atop chain-link fence, window bars and front door gates, a tangle of electrical cables sprouting from a wall, caged and locked light fixtures and air-conditioning units, cinder blocks, and wooden palettes. Each element of this ghostly installation will be life-size, and made entirely of paper, glue and tape.
Sonya's work has been exhibited previously at Mixed Greens, Smack Mellon, the Islip Art Museum, the Dieu Donne Papermill, and various other institutions around the country. She has participated in residencies at the CUE Art Foundation, Dieu Donne Papermill, and Plane Space. Artforum online declared her the "critics pick" as did The Village Voice, her work has also been written about in the San Franciesco Chronicle, NYFA Current, and the Bloomberg News.
About Diet: Located at 174 NW 23 Street in Miami, Florida Diet represents five emerging and midcareer artists. Diet's artist roster includes Brian Burkhardt, Charley Friedman, Richard Höglund, Abby Manock, and Daniel Milewski. The work of these five artists is exhibited alongside that of an invitational program of artists from around the world.
For more information or images please contact: 305.571.2288 or nina@gallerydiet.com
Information on Sonya Blesofsky's previous bodies of work is available at www.sonyablesofsky.com
*Special thanks to The Fountainhead Residency for hosting Ms. Blesofksy.