Opening April 11th, 2009,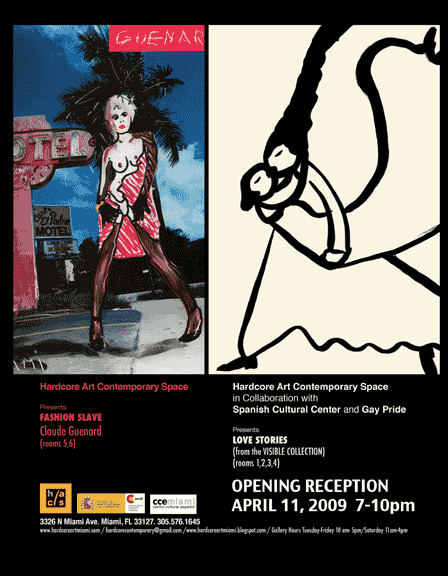 HACS presents "LOVE STORIES" in collaboration with the CCE and a solo exhibition by French artist Claude Guenard.
Hardcore Art Contemporary Space is honored to collaborate with the Spanish Cultural Center (CCE), the Spanish Agency of International Cooperation for Development (AECID), the VISIBLE Collection and Gay Pride Celebration in Miami, in the effort to promote Human Rights and equality for all human beings through art. HACS will proudly be opening "Love Stories" from the VISIBLE collection with a gallery walk by Pablo Peinado, curator of the collection, prior to the reception and launch party at 7pm.
Opening event will also present a performance by Queen Cabaret with DJ Kiki and an after party at Vlada Bar in Wynwood.
HACS will also host a seminar on Queer Literature in conjunction with the University of Miami (UM) April 29th. Claude Guenard will show his wildly erotic drawings and mixed media work. He thrives in showing what others don't dare to show, a certain sexuality that seems to drive the world but is kept under wrap in our Judeo/ Christian societies. His work is sometimes dominated by the sexual tension between sex and church, the tension between the forbidden and the inevitable. A description in his own words, "I topple the values of representation and I create an interaction between words, drawing and the model. I whole-heartedly abuse the voyeurism of art buffs who only think about loving my drawings."