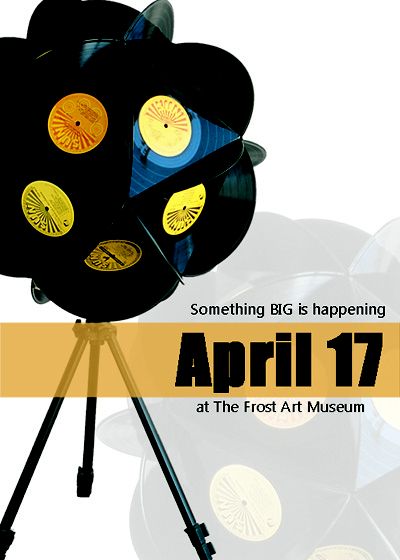 April 17 marks the opening of 4 thought-provoking exhibits
Opening Reception | Friday, April 17 | 6 p.m. to 9 p.m.
Because I Say So is an exhibition that will provoke that answer to the question "Is that Art?" The Frost Art Museum will present sculpture and installations for which the artists have used materials ranging from the most ordinary (twigs, pins, scraps of fabric, etc.) to objects that make reference to the tradition of sculpture, but subvert that tradition in remarkable ways.
Major collectors Debra and Dennis Scholl present the often unseen sculpture that is central to their significant contemporary art collection. The Scholls have been in the forefront as collectors and supporters of emerging and established contemporary artists for many years. The exhibition is on view thru August 16th.
Genetic Portraits by Nela Ochoa- Ochoa, a prolific and internationally recognized multimedia artist, works simultaneously and seamlessly in the areas of video art, sculpture, and performance to explore the genetic codes of human bodies. On view thru September 19, 2009.
BFA Spring 2009 Show, Wake- The Bachelors of Fine Arts students at FIU's School of Art & Art History present a series of works produced during their tenure at FIU. Curated by Professor Pip Brant. On view through May 10, 2009.
Kenan-Flagler Family Discovery Gallery- The Kenan-Flagler Family Discovery Gallery allows visitors to experience interactive activities designed to educate and entertain. This state-of-the-art Discovery Gallery consists of 13 stations. Visitors can enjoy a room dedicated to the interactive exploration of art and the imagination.