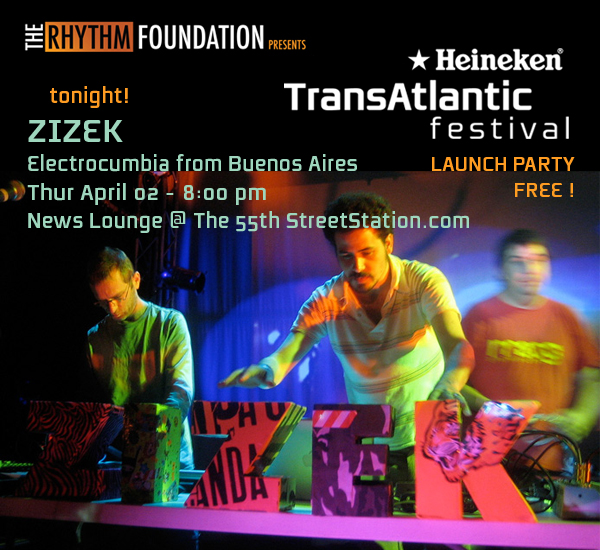 Tonight, Thursday April 2nd – 8 PM
Heineken TransAtlantic Festival launch party – FREE!
Zizek Urban Beats, electrocumbia DJs from Buenos Aires
News Lounge at 55th Street Station
5580 NE 4 Court (next to Soykas and Andiamo), Miami 33137
Click here for the complete Festival schedule + music and video clips and more
Click here for the 55th Street Station site
Click here for the Zizek spring tour details, which includes a spot at Coachella
Click here for a Festival feature in Conde Naste Traveller online
Click here for a Festival feature in today's El Nuevo Herald
Click here for a Festival feature in yesterday's Miami Herald
Electrocumbia is a mash-up sound from the coolest club in Buenos Aires – a hybrid of Colombian and Mexican cumbia with baile funk, hip hop, drum & bass and electronica.
Next week, Tuesday April 7th, we return to News Lounge for Curated Listening, a free night of new global grooves courtesy of Globesonic DJ Fabian Alsutany. Click here to visit DJ Fabian online and get ready for another night of music. Then it's off to the North Beach Bandshell for two weekends of amazing live concerts.
See you there!
The Heineken TransAtlantic Festival is presented with support from Heineken USA, Club Med, American Airlines, Pasha's Restaurants, Atlantic Broadband, Business Centers International, North Beach Bandshell Trust, John S. and James L. Knight Foundation, National Endowment for the Arts, City of Miami Beach Cultural Arts Council, Miami Dade Department of Cultural Affairs.