"ILLUMINATION OF THE SOUL"
Opening Reception on Saturday, April 11th 2009 (7-11pm)
A captivating collection of magnificent artwork is one way of describing our next exhibition entitled, "Illumination of the Soul". This cohesive, artistic collaboration captures our artist's inventive ideas & dreams and brings them to life through the use of their brilliant & mesmerizing colors.
"Illumination of the Soul" Featuring 32 Contemporary artists exhibiting their diverse sense of spirit. Exploring the imagination through their Art!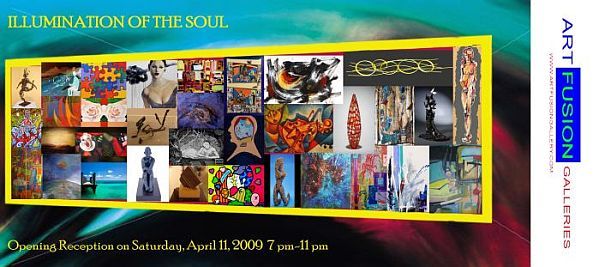 These daring, thought provoking creations are designed to stir the emotions as well as to challenge the senses of the art-lover in all of us. So join us in these upcoming months at Art Fusion Galleries and light up your world with "Illumination of the Soul".
Opening Reception April 11th, 2009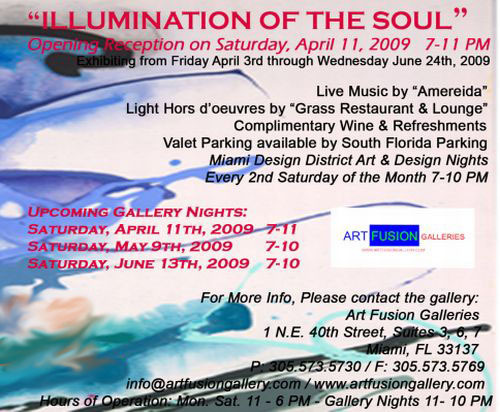 Art Fusion Galleries is the largest gallery in the Miami Design District, over 4,000 square feet of gallery space. Our events are always one that you will not forget! Come join the fun.
Further artist information can be found at: www.artfusiongallery.com
For press follow up questions, please contact William Braemer, Jay Jakela or Leslie Canales at the gallery:
Art Fusion Galleries
info@artfusiongallery.com
www.artfusiongallery.com
1 N.E. 40th Street
Suites 3, 6 & 7
Miami, FL 33137
Tel: 305-573-5737