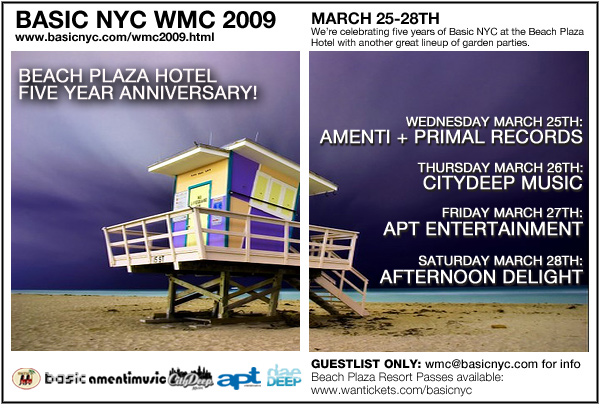 We're celebrating five years of Basic NYC @ the Beach Plaza Hotel with four fantastic parties to celebrate the 2009 Winter Music Conference! From Wednesday through Saturday, we'll be presenting some of house music's finest in the Beach Plaza gardens: for the full schedule check out our WMC 2009 page and our WMC Facebook group!
BEACH PLAZA HOTEL ROOMS! If you want to stay at the Beach Plaza, and have immediate access to all of the garden parties email ingrid@beachplazahotel.com for the fastest response. Ask for the Basic NYC package. ROOMS ARE STILL LEFT but don't hesitate to book or you'll miss out!
We're also excited to announced that we'll be throwing four parties on the rooftop of the Bentley Hotel, a gorgeous, brand-new outdoor spot at 5th and Ocean. From Wednesday to Saturday, enjoy a panoramic view of South Beach, great food and drinks from Bellini Italian Bistro, and choice beats from a wide array of DJs. Check the party schedule below and on our website and WMC Facebook group for the info! Email for guestlist requests and more details bentley2009@basicnyc.com
SULLIVAN ROOM + MOST WANTED ENTERTAINMENT WMC 2009!
And save Saturday night for the amazing 5th Annual Sullivan Room WMC showcase, co-presented by our buddies at Toronto's Most Wanted Entertainment. This two-room party at Ink Nightclub at 7th and Washington will feature a huge lineup of Sullivan Room favorites along with NYC and Toronto locals. DJs include: D:FUSE, Hector Romero, the Scumfrog, Demi, Sleepy & Boo, Jonny White, Nitin, Rooz and many more. RSVP for guestlist!!
We are now selling our pre-sale drink passes for the Beach Plaza! If you are not a Beach Plaza hotel guest or on a guest list, this is the best way to guarantee your entry to the parties. Remember, capacity is limited, so skip the line with a pass. To purchase your pre-sale pass, goto wantickets.com/basicnyc
BASIC NYC @ BEACH PLAZA HOTEL PARTY SCHEDULE:
Wednesday March 25th:
Basic NYC Presents: Amenti + Primal Records
The west coast's underground stalwarts return for another deep and jacking house throwdown at the Beach Plaza. DJs: Miles Maeda, Ken (ECB), Lawnchair Generals, Kai Ishikawa, Massimo Dacosta, Olivier Desmet, Joshua Heath, Latenight Society, Homero Espinosa vs. Jonn Hawley, Allan vs. Steven, Aaron A & Erin C and Basic NYC residents Sleepy & Boo. Guestlist only – RSVP amenti2009@basicnyc.com for list access!
Thursday March 26th:
Basic NYC Presents: CityDeep 5 Year Anniversary
The CityDeep crew returns to the Beach Plaza to celebrate five years of cutting edge deep and soulful house music. Halo, Claude Monett, Rocco, DJ Yass, Boddhi Satva, Jojoflores, Martino, David Harness, Jamie Thinnes and Basic NYC residents Sleepy & Boo. Guestlist only – RSVP citydeep2009@basicnyc.com for list access!
Friday March 27th:
Basic NYC Presents: APT Entertainment Showcase
Mark Farina, Honey Claws, DJ Heather, Jay-J, Miles Maeda, Lawnchair Generals, Jazzy Eyewear, Pete Moss, Brett Johnson, Sean Dimitrie, Tim Fuller, Jason Hodges, Ingrid Hakanson, Olivier Desmet, Ken Christensen, Fred Everything, Joshua Iz. with Basic NYC residents Sleepy & Boo. Guestlist only – RSVP apt2009@basicnyc.com for list access!
Saturday March 28th:
Afternoon Delight 2009
We're breaking out the popsicles once again for everyone's favorite party, Afternoon Delight! DJs Marques Wyatt, Andy Caldwell, DJ Spinna, Jask, Terry Hunter, Karizma, Groove Junkies, Slinky from Seminal Grooves, Adam Auburn, Housing Project Ft. Aaron Dae & Dirty and Basic NYC residents Sleepy & Boo. Guestlist only – RSVP delight2009@basicnyc.com for list access!