The Consulate General of Japan and Midori Gallery
Are pleased to present an unprecedented exhibition of a rare collection
"Triptych"
The Narrative Art of Historical Japan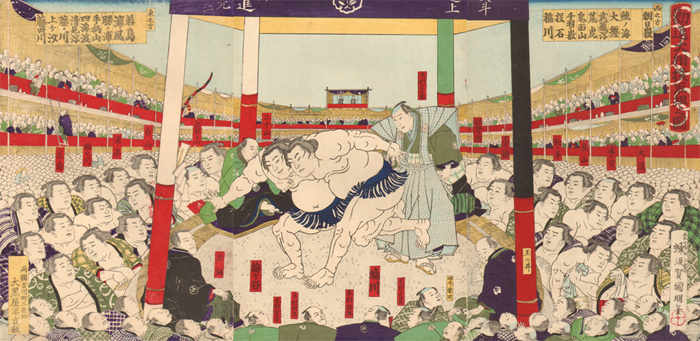 Wrestlers – Umegataké & Sakaigawa, by Kuniaki, published 1878
The traditional Japanese woodblock print is an amazing, labor intensive art form in itself.
Even more remarkable is the assembling of three individual prints that further enhance
the artist's voice to relate the heroic events, legends and celebrated aesthetics of his day.
In the creation of the triptych the artist must render each panel to be a complete image
unto itself that when linked with its companions tells the larger story. It is precisely this
ingenious capability that has caused the majority of the triptychs that have survived
over time to be separated and framed in households as individual works of art.
Shirley and Gilbert Luber were passionate collectors of the Japanese woodblock print
for over 30 years. Every year they spent one month in Japan searching and procuring
outstanding works for their collection. The Luber Collection of Antique Triptychs is
a rare opportunity to view this extraordinary art form through the experienced eye
of one of the world's most discerning collectors.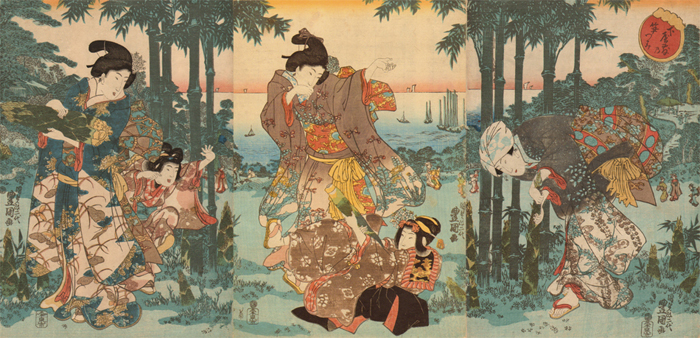 Bijin Harvesting Bamboo Shoots, by Utagawa Kunisada (1786-1865) (Toyokuni III), circa 1850
Opening Reception
Saturday Evening
April 4th, 7 to 10 pm
Introductory Remarks: The Honorable Hiroshi Yamaguchi Consul General of Japan
Opening Evening Taiko (Drums) and Shakuhachi (Bamboo Flute)To be performed by the "Fushu Daiko"
MIDORI GALLERY
3168 Commodore Plaza
Coconut Grove, FL 33133
(305) 443-3399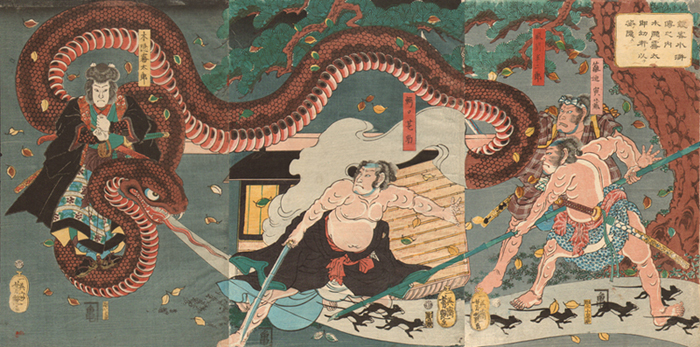 Kogare no Kiritaru Disappearing by Using a Trick, by Yoshitsuya (1822-66)