arteaméricas – the premier fair of art from Latin America – will be returning to Miami for the 7th consecutive year. For four days, with the presence of 70 galleries, the Miami Beach Convention Center will be an epicenter of Latin American culture, where the traditional, modern and contemporary will converge. Don't miss out on this unique opportunity to see paintings, sculpture and multimedia art from established masters and emerging artists, representing decades' worth of artistic evolution throughout Latin America — all under the same roof.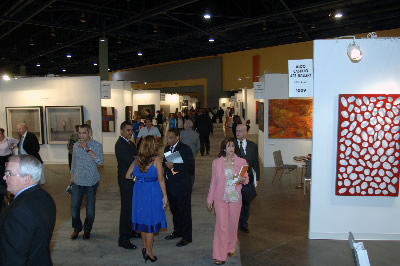 Arteamericas Brings The Best Latin American Art To Miami For The 7th Year In A Row
MIAMI, FL arteaméricas, the premier fair of art from Latin America, will be
returning to Miami for the seventh consecutive year. Starting on Friday, March 27 through Monday, March 30 , arteaméricas will showcase the latest trends in paintings, sculpture and multimedia from contemporary artists as well as renowned masters at the Miami Beach Convention Center.
In just seven years, arteaméricas has become one of the world's most important and prestigious fairs of Latin American art. The best galleries from Argentina, Colombia, Costa Rica, Ecuador, Haiti, Mexico, Panama, Peru, Puerto Rico, Spain, Uruguay, the Dominican Republic, the United States and Venezuela will be in attendance this year.
With them, they will bring works by internationally celebrated artists, including Fernando Botero, Lygia Clark, Wifredo Lam, Armando Reverón, Jesús Soto, Rufino Tamayo, José Pedro Costigliolo, León Ferrari, and Joaquín Torres-García. Vanguard contemporary artists including Alexandre Arrechea, José Bedía, Tony Bechara, Eduardo Chapela, Tomás Espina, Bastón Díaz, Mauro Giaconi, Maria Monteagudo, Santiago Porter, and Hugo Zapata, among others. This year's fair will be a place where art collectors and art professionals alike will gather among the present trends in paintings, sculptures, and conceptual art multimedia that distinguish the region's art.
The 2009 edition of arteaméricas will welcome the return of many galleries from previous years, as well as many new additions, all carefully selected by an Advisory Committee of art experts. Participating galleries include: Aldo de Sousa, Del Infinito Arte, Fundación Leopoldo Torres Agüero, Pabellón 4, Van Eyck Galeria de Arte and Via Margutta Arte Contemporáneo, from Argentina; Galería El Museo and Galería Sextante, from Colombia; Galería Jacob Karpio, from Costa Rica; dpm Arte Contemporáneo, from Ecuador; Carlos Woods Arte Antiguo y Contemporáneo, from Guatemala; Galería Fernando Pradilla and Joan Guaita, from Spain; Galerie Bourbon-Lally, from Haití; Alfredo Ginocchio, Quetzalli, and Nina Monocal, from México; Galería Arteconsult, Aleman & Grimberg, from Panamá; La Galería, from Perú; Arte Berri and Lyle O. Reitzel Gallery, from the Dominican Republic; Galería Sur, from Uruguay; La Carniceria, Galería Durban Segnini, and Juan Ruiz Galeria, from Venezuela.
Latin American art in the United States is widely represented by: Alonso Arte, PanAmerican Art Projects, Arévalo Arte, Art Formz, Cernuda Arte, Dot Fifty One, Diana Lowenstein Fine Art, Durban Segnini Gallery, dpm Arte Contemporaneo, Latin Art Core, Praxis International Art, Sammer Gallery, The Americas Collection, Cecilia de Torres LTD, Henrique Faría Fine Art, Ruiz-Healy Art, and I Box, among others.
Prestigious art institutions and museums will be present at arteaméricas. Those participating include Bass Museum of Art, CIFO/ Cisneros Fontanals Art Foundation, Lowe Art Museum, MAM / Miami Art Museum and MOCA / Museum of Contemporary Art, Museum of Art Ft. Lauderdale, the Patricia & Phillip Frost Art Museum, Museo del Barrio from New York, MoLAA from California; Museo de Arte de Puerto Rico, and Washingtong DC's Inter- American Development Bank.
Year after year, arteaméricas exceeds all expectations with outstanding exhibits, a diverse audience, and excellent sales, while maintaining its intimate, boutique feel. The art available at arteaméricas ranges from $2,000 to close to one million dollars.
arteaméricas is directed by Leslie Pantín, serving as the fair's president, Emilio Calleja as Vice President; and Diego Costa Peuser, publisher of Arte al Día Internacional and
director of PINTA Art Fair in New York as Fair Director of arteaméricas.
Sponsors include American Airlines, FedEx, Bacardí and The Miami Herald / El Nuevo Herald. arteaméricas is also made possible with the support of the Miami Beach Visitor & Convention Authority and the Greater Miami Convention and Visitor's Bureau, as well as its media partners: Arte al Día, Art Nexus, Art Circuits, América Economía, Casa & Estilo, Hispanic Magazine, Latin Trade, Miami Monthly, Selecta, Social Affairs, Wynwood Art Magazine, Vanidades and Vista Magazine.
Visit arteaméricas online at www.arteamericas.com for more information.