Dan Sehres of New Concept Video along with Mykel Stevens
Welcome you to a night of CINEMA!
A Night of Movie… Music… Drinks!
Complimentary Popcorn!
Sunday CINEMA : THIS WEEKS MOVIE "The Roman Spring Of Mrs. Stone" The story of an american woman and her abandonment in rome…..
Critics and the public say Karen Stone is too old — as she approaches 50 — for her role in a play she is about to take to Broadway. Her businessman husband, 20 years her senior, has been the angel for the play and gives her a way out: They are off to a holiday in Rome for his health. He suffers a fatal heart attack on the plane. Mrs. Stone stays in Rome. She leases a magnificent apartment with a view of the seven hills from the terrace. Then the contessa comes calling to introduce a young man named Paola to her. The contessa knows many presentable young men and lonely American widows
One lucky winner will receive a gift presented by New Concept Video.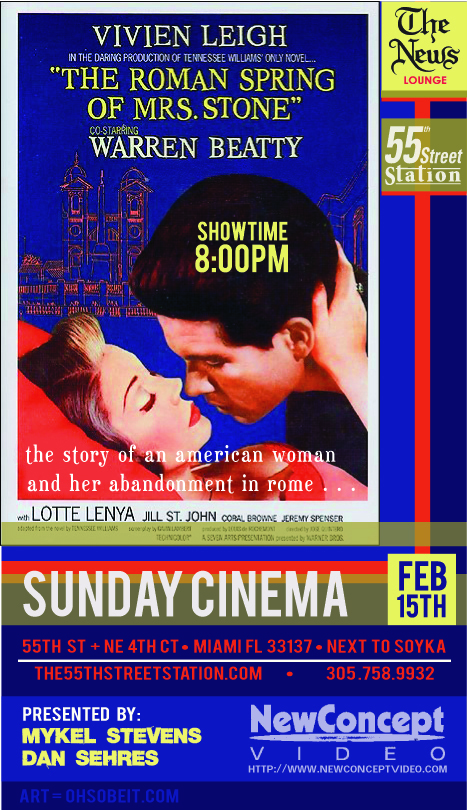 Sunday, February 15, 2009 at 8:00pm
Location: The News Lounge
Street: 55th Street + NE 4th Ct ( Next to Soyka ) Miami, FL
Phone: 3057589932
Email: mykels77@aol.com