"Faith, Fear, and Fortune"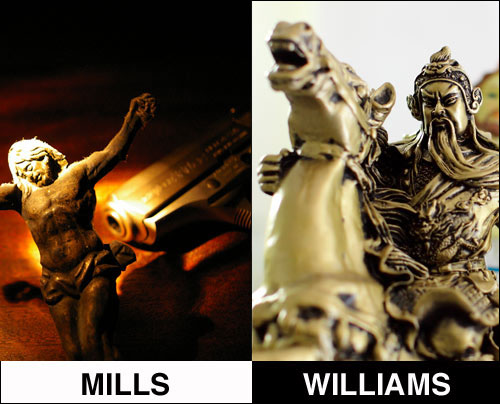 How Do You View Religion?
As Faith, As Fear of God, or As Placing a Bet on Fortune?
Artformz is pleased to announce the opening of its February exhibit
Featuring the work of
Ramon Williams and PJ Mills
With a special performance by:
Philosopher Enrique Paterson as part of the artist's Collaborative Installation
"One Question – One Answer"
Join the artists this Saturday, February 14, 2009 at the Opening Reception: 7-10 pm
About the Exhibit:
Religion and faith are the subjects of lectures, books, artwork, and architectural monuments. In the gallery's February show artists Mills (Irish-American) and Williams (Cuban-American) exhibit haunting interpretations of this theme flowing pervasively throughout much of each artist's work. The imagery and objects are observations on the condition of contemporary society, filtered through each artist's ethnic experience that has led to the creation of each one's visual vocabulary. Mills sees religions as "predominately mechanisms for family/social control." and Williams as "instruments of faith," to help "look forward beyond that existence of fear and solitude."
Even as the resulting works follow personal and private interpretations on the theme, and are separate stories, they are not – as evidenced in the collaborative "Botánica" installation titled "One Question, One Answer" assembled in the project room. The artists invite visitors to enter – one by one – where they may find, as Williams states: "the chance of grasping the meaning in the actual frailness of the merchandise and its hopeful consumer." Enrique Patterson, philosopher, essayist, journalist, political analyst, radio talk show host, and in this case oracle, offers one "true" answer to each guest's question on "The Politics of Faith or The Faith of Politics".
PJ Mills exhibits 2 large banner style photographs each measuring 84″ high by 120″ wide. His images are evocative, dark interpretations of a personal struggle with what he may deem his own destiny. His ideas and images are governed by the paradoxes created by old family traditions and gained intellect.
Ramon Williams shows a variety of works that interpret a very different tradition. His view is one of the mystical and healing power of religions. However, one does not miss the scrutiny given to modern means of dissemination. He work neither judges nor criticizes society's methods yet observes with humor the sometimes profit driven marketing of hope.
The exhibit runs from Feb. 14, 2009 – March 9, 2009
171 NW 23rd Street
Miami, Florida 33127
305.572.0040
www.artformz.net