FB AUTHOR SERIES PIRATES & PRINCESSES STORYTELLING EVENT
SOAR. CREATE. ENGAGE
Character show and book reading by Miss Nava & Co. featuring story telling of pirates and princesses.
$45.00 per child inclusive of entry to the story telling, custom cupcake by SOLO, juice and choice of pirate or princess book. Titles include Pirates Ho!; How I Became A Pirate; Pirates Don't Change Diapers; Princess And The Pea; Princess Primer; or Angelina And The Princess.
FONTAINEBLEAU MIAMI BEACH
FB KIDS CLUB
TO ORDER AND RESERVE: www.wantickets.com/fontainebleau
1 866 926 8499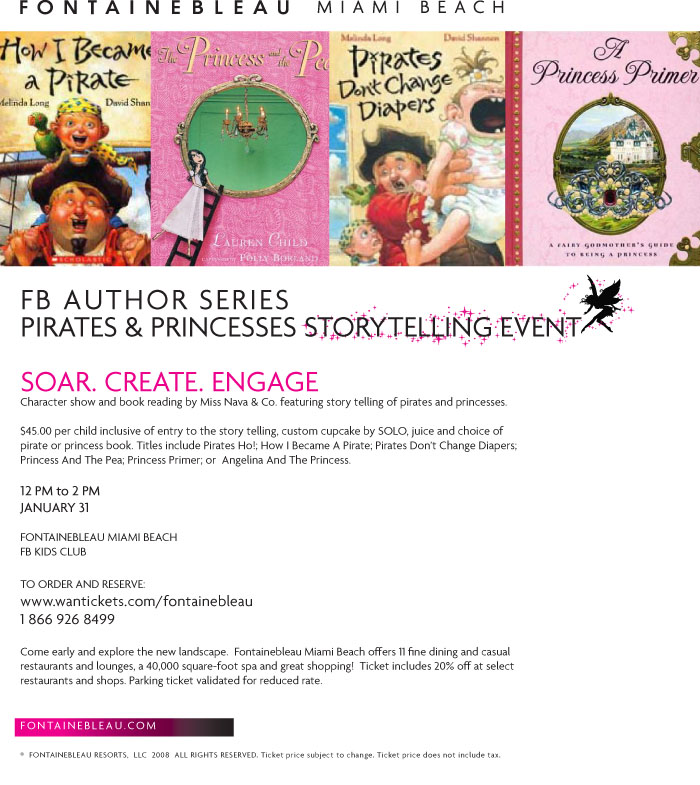 Come early and explore the new landscape. Fontainebleau Miami Beach oers 11 fine dining and casual restaurants and lounges, a 40,000 square-foot spa and great shopping! Ticket includes 20% off at select restaurants and shops. Parking ticket validated for reduced rate.