1.20.09 : 10:30am-2pm
gusman center for the performing arts
alissa christine's obama poster signing at the
FREE live simulcast of obama's inauguration : see it on the big screen
rsvp: info@gusmancenter.org
more info: gusman center
To request seats (limit 2) send an e-mail to info@gusmancenter.org
poster title: "obama in miami : making waves" :: ILM365 featured image for 10.21.08
alissa christine photographed barack obama on october 21, 2008 at the rally at bicentennial park in downtown miami. the image is a photo composite of 2 photos from the rally: obama, and his audience.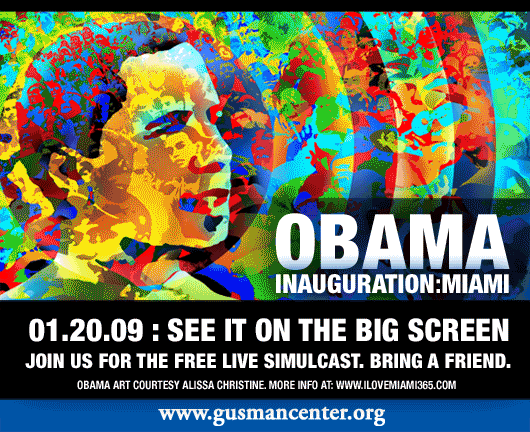 of the Presidential Inauguration
With special permission from WPBT-Channel 2, PBS and The NewsHour, Miami's Olympia Theater at the Gusman Center for the Performing Arts is pleased to present, free to the public, a video simulcast of the Presidential Inauguration. The theater's doors will open at 10:30 a.m. for general admission seating. At 11:00 a.m. an organist will perform a mini-concert on the theater's massive "Mighty Wurlitzer" pipe organ. The simulcast will air from 11:30 a.m. to 1:30 p.m.
Concessions will be available for purchase in the theater's lobby. Special commemorative posters will also be available for purchase; the artist will be on hand for personal signing. Attendees who provide their business card will be eligible to win posters and other prizes in a drawing to be held immediately after the telecast.
Admission is free and open to the public. To request seats, send an email to info@gusmancenter.org (two seats per request). Admittance will be on a first-come, first-served basis.
Sponsors of the Gusman Center's inauguration simulcast include the Miami Parking Authority, Miami Downtown Development Authority, X/O Management, WPBT-Channel 2 and Next Level Design.