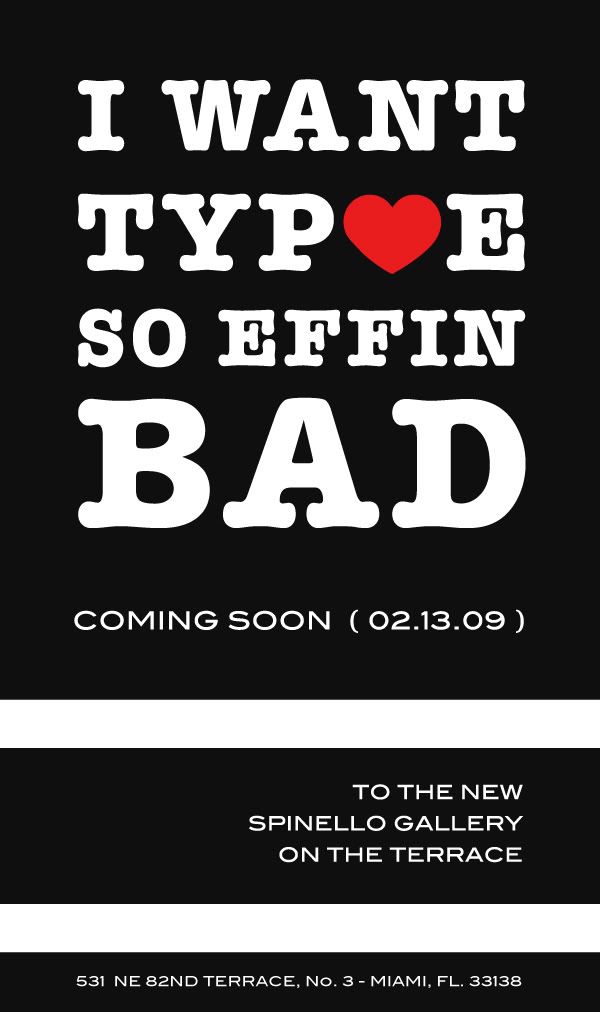 COMING SOON: I WANT TYPOE SO EFFIN BAD – TO THE NEW SPINELLO GALLERY ON THE TERRACE
spinellogallery.com
It has been said that "The spunky young dealer transforms his modest gallery about as often as his competitors change their underwear." Anthony Spinello is switching it up again at the new SPINELLO GALLERY in the MiMo (Miami Modern) District. The fresh alternative space is located at 531 NE 82nd Terrace, No.3, Miami, FL – 33138, debuting Miami's most infamous concrete bandit, TYPOE, in his first solo exhibition, "I WANT TYPOE SO EFFIN BAD."
The self-taught letter connoisseur, alphabet contorting, style addict, crushes Spinello's new pad with an inaugural Valentine's Eve celebration. The young Cuban casanova, will be wooing the chicas with a suite of twisted mixed media sculptures from his "My Crazy Life" series exploring religion, violence, money, girls, and his pursuit to be on top in the graff game for fame.
TYPOE serves up some of his childhood idols such as Jesus in "FTW" (Fuck The World), where you'll find a small sculpture of the big "J" nailed to the cross strapped with a hand gun on his waist and an assault riffle on his back, boldly hanging above the entrance door of the gallery. A sculpture of his virgin mother, "Mary," shows up on a pedestal sporting a clown nose with black shifty eyes. The most arresting sculptures in the exhibition are "Pineapples," where three identical Guardian Angels are lined up, each adorned with a golden hand grenade headdress camouflaged as a juicy pineapple.
Keep it classy and bring a date on Friday, February 13th, 7-10pm.
Exhibition through March 7, 2009.
SPINELLO GALLERY: 531 NE 82nd Terrace, No. 3, Miami, FL – 33138
SOLO EXHIBITION: TYPOE / "I WANT TYPOE SO EFFIN BAD"
OPENING RECEPTION: Friday, February 13th, 7-10pm