PETER, PETER AND POTTER!
Gold Coast Theatre Company celebrates two famous children's classics –Peter & the Wolf and Peter Pan- and weaves them into a story told by the hilarious professors of a famous English school of sorcery- Pigwarts!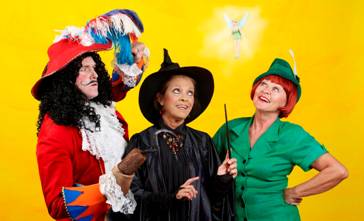 A tribute to childhood heroes showcasing comedy, magic and mime with an international cast
DYLAN ACE, GRACIELA BINAGHI, PETER KISILUK, LELA LOMBARDO, JUDE PARRY
Sunday, January 25 at 2pm & 7pm at the Arsht Center, 1300 Biscayne Blvd, Miami FL 33132
Box Office: 305 949 6722 or ArshtCenter.org
Saturday, January 31 at 7pm, Sunday, February 1 at 3pm, Broward Center, 201 SW 5 Av, Ft Laud
Box Office: 954 462 0222 or BrowardCenter.org
Tickets are $20 for adults, $10 for children under 14
Please contact us for further information! 305 538 5500
Or email us at goldcoast-panto@hotmail.com
Bring the kids! Don't have any? Borrow some! You will enjoy the experience even more!
We hope to see YOUR smiling face at "PETER, PETER & POTTER"!