OCEAN DRIVE MAGAZINE CELEBRATES ART BASEL MIAMI BEACH WITH ITS SECOND ANNUAL PAINT THE TOWN GREEN EVENT
MAGAZINE PARTNERS WITH WARNERS BROS. CONSUMER PRODUCTS TO FETE THE 70TH ANNIVERSARY CELEBRATION OF THE WIZARD OF OZ.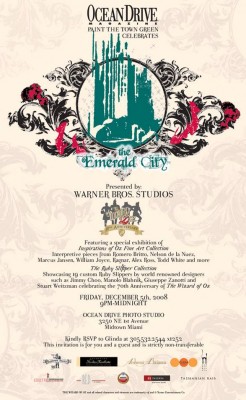 Friday, December 5th, Ocean Drive magazine will fete Art Basel Miami Beach with its second annual Paint The Town Green Event. This year, the magazine will collaborate with Warner Bros. Consumer Products to present The Emerald City, a celebration of fashion, and film in commemoration of the upcoming 70th Anniversary celebration of the iconic American film, the Wizard of Oz. The invitation-only party will be held at Ocean Drive's Photo Studio at 3250 NE 1st Ave, Suite 105 in Midtown Miami.