Kaiju Monster Invasion, Miami Beach Fine Art Show Grand Opening Dec 3rd 8-10pm
Meet The Artists And Signing Dec 5th, 8-10pm
Kaiju Themed Computer Music Performance Dec 6th 8-10pm
At: Art Center Of South FL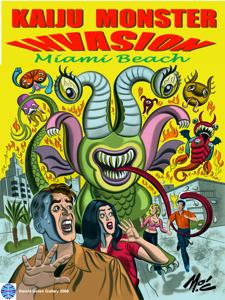 Curator: Harold Golen, founder of Miami's Harold Golen Gallery has been asked to curate this special December exhibition during Art Basil 2008. Mr. Golen's gallery focuses on Lowbrow/ Pop-Surrealist Art and has been featured in the New York Times, Architectural Digest, as well as named "Best Place to Buy Lowbrow Art" by the Miami New Times. Golen was also the proprietor of the Miami Beach store "POP" an internationally known pop culture store. Golen has a B.A. in Architecture from the University of Miami. Harold Golen will work closely with the artists and The Art Center to ensure the theme and unity of the Kaiju show.
Art Center of South Florida: Founded in 1984, the Art Center, located on world-famous Lincoln Rd in Miami Beach, provides artists with a highly desired space to showcase their work. The Art Center's exhibitions are a staple of the burgeoning Miami art community. Past shows in the Art Center during Art Basel week have attracted over 40,000 visitors. The special Miami Beach location—adjacent to the Art Basel fair, makes the Art Center an ideal location for this event.
Art Basel: The largest Contemporary Art Show in North America, Art Basel Miami Beach has been since its foundation in 2002, the most successful modern contemporary art fair in the world. According to the Miami Beach Visitors Center, the fair brings over 50,000 visitors to the city each year. The Kaiju Show will open during Art Basel week, ensuring maximum exposure to the coveted Art Basel patrons.