CIFO invites you to Art Basel Miami Beach events Wednesday, Dec. 3 – Sunday, Dec. 7, 9AM – Noon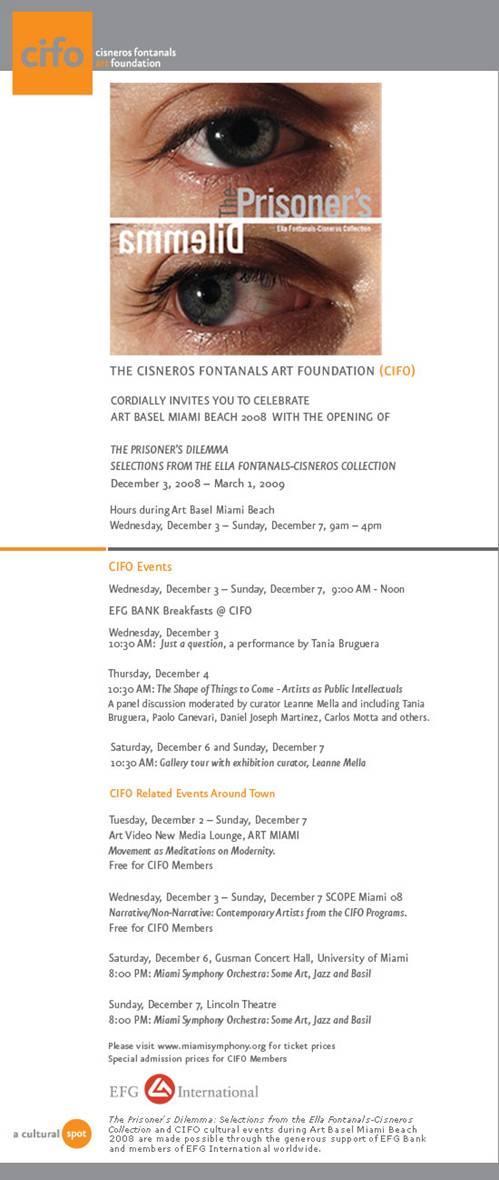 The Prisoner's Dilemma: Selections from the Ella Fontanals-Cisneros Collection, December 3, 2008 – March 1, 2009
EFG BANK Breakfasts @ CIFO, Wednesday, December 3 – Sunday, December 7, 9am – noon
Wednesday, December 3, 2008 10:30am Just a question, a performance by Tania Bruguera
Thursday, December 4, 2008 10:30 am  The Shape of Things to Come – Artists as Public Intellectuals, A panel discussion moderated by curator, Leanne Mella and including artists Paolo Canevari, Daniel Joseph Martinez, Carlos Motta and others.
Saturday, December 6 and Sunday, December 7 10:30am,  Gallery tour of The Prisoner's Dilemma with exhibition curator, Leanne Mella
CIFO Related Events Around Town
Tuesday, December 2 – Sunday, December 7, Art Video/New Media Lounge, ART MIAMI, free for CIFO Members, Movement as Meditations on Modernity, CIFO presents an exhibition by four artists, Magdalena Fernandez, Alexander Apostol, Amilcar Packer and Icaro Zorbar, who offer different approaches to 'movement' as an inherent aspect of technology and as a meditation on modernity and modern art and its many traditions.
Wednesday, December 3 – Sunday, December 7, Museum Presents, SCOPE Miami 08, Free for CIFO Members, CIFO presents an exhibition of artists from Latin America in SCOPE Miami's Museum Presents.
Saturday, December 6, 8pm, Gusman Concert Hall, University of Miami, Special admission prices for CIFO Members, Please visit www.miamisymphony.org for tickets, Miami Symphony Orchestra: Some Art, Jazz and Basil
Sunday, December 7, 8pm, Lincoln Theatre, Special admission prices for CIFO Members, Please visit www.miamisymphony.org for tickets, Miami Symphony Orchestra: Some Art, Jazz and Basil