Lawrence Savage Galleries, with locations in Coral Gables and the Miami Design District, announced today that it will represent contemporary furniture designer / maker Andrew Muggleton, whose work will be available at both galleries. Savage, who met the designer at a show in Palm Beach, said he was immediately taken with Muggleton's work, and the two quickly struck a deal. "I just love his furniture and his sense of style," said Savage, "and I think he will add an exciting new dimension to both galleries." The galleries are located at 66 N.E. 40th Street, in the Design District, and 4217 Ponce de Leon Blvd. in Coral Gables. Telephone (305) 446-1222.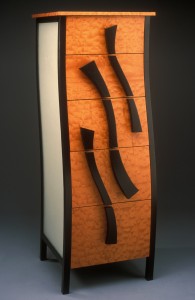 [Tall Curved Drawers (One Of A Kind) – Makore drawer fronts are framed in Ebonized oak. The drawer handles are carved from Ebonized Oak. Sand blasted glass has been profiled and built into the sides of the drawers. The curved drawers are created by bending thin layers of wood together and gluing them. Dimensions: 60in H X 23in. W X 22in D (Click on image for larger view)]
Andrew Muggleton is a true artisan who creates stunning furniture designs, many of which are one-of-a-kind. In designing his contemporary furniture, Muggleton combines extraordinary woods with metal and glass to create furnishings with spare, elegant lines. Dining room tables and chairs, console tables, beds, entertainment units and sets of drawers are crafted with a nod to comfort and an eye towards beauty. His furniture designs are innovative but not complicated, and usually feature large curves and a mix of materials – solid wood, veneer, metal and glass.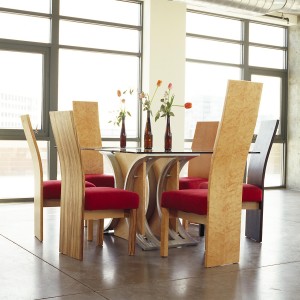 [Aluminum Dining Table – Rectangle dining table made using Bird's Eye maple and Aluminum curved supports. All dining tables are custom made to order to any size. Materials: Bird's Eye maple Wood, Aluminum curved supports with a glass top. Dimensions as shown: 64in (L) x 42 (W) x 30in (H) (Click on image for larger view)]
SIMPLIFY, SIMPLIFY, SIMPLIFY
Much like Henry David Thoreau, a complex man of many talents who worked hard to shape his craft and his life, simplicity is a hallmark of Muggleton's design philosophy. "Keeping a design simple and avoiding the trap of filling empty space with unnecessary clutter is my most difficult – and most rewarding – challenge," says the British born designer who now works out of his studio in Longmont, Colorado. "Simplicity in life is difficult and complicated to achieve," added Muggleton. "It is easy to have too much going on and spend too much time organizing it."
COMPLEX PROCESS YIELDS GRACEFUL ELEGANCE
Muggleton creates high quality modern furniture by bending and shaping exotic woods and blending other materials such as metal and glass to achieve the desired outcome. "The method of making curved furniture is a complex process, which has been practiced for centuries," says Muggleton, who went on to explain: "Many thin layers of wood are joined together, placed on a mould and inserted into a vacuum press. The vacuum press shrinks itself around the mould, contorting the wood over the new shape. The press delivers a cumulative pressure of almost 4 tons over the new design." Once the body of the work had been created in this way, says Muggleton, the same process is used to apply beautiful veneer onto the surface.

[Lotus Bench – Bent Bird's Eye maple ends enclose the natural flowing arched base, inlaid with wenge. The seat is upholstered in Ultra-suede. Materials: Bird's Eye Maple and Wenge wood and upholstered in Ultra-suede – Available in other woods and sizes. Dimensions as shown: 23in (W) x 71in (L) x 31in (H) – Three Person Bench, 20in (W) x 60in (L) x 31in (H) – Two Person Bench (Click on image for larger view)]
Elements of engineering, structure and architecture are all incorporated into Muggleton's work, and each serve to inspire him daily. "Buildings, bridges and archways new and old all provide a fundamental foundation for my designs," he says. Explaining his affinity for creating curved furniture, Muggleton says, "Everything in nature is curved, from the smooth pebbles on a beach to an egg. Sharp jagged edges do not make you feel at ease; but a field of straw bending in the wind, now that is inviting. This is the reason my work involves such beautiful and subtle curves."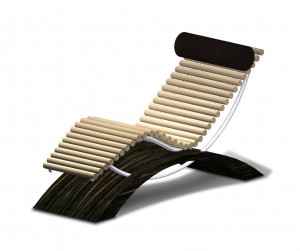 [Macassar Chaise Lounge – Beautifully stitched and upholstered leather supports are secured to stainless steel curved rails. The headrest is also upholstered in leather. The base is curved and tapered in Macassar Ebony, which is considered one of the most lustrous and beautiful of the ebony wood family and is notoriously difficult to bend. The seat can be positioned at an infinite number of angles for whether you are reading or simply relaxing. Materials: Macassar Ebony wood and Stainless Steel and Leather. Dimensions as shown: 20in (W) x 59in (L) x 29in (H) – Available in other woods and sizes (Click on image for larger view)]
Andrew Muggleton was born in Aldershot, England. He graduated from Nottingham Trent University with a degree in manufacturing engineering and worked throughout the world as a design engineer before moving to the United States in 1999 to develop his passion for furniture design. His work has been featured in a number of well respected magazines, including The Robb Report, Architecture & Design of the West, Northern Home, Phoenix Home & Garden Magazine and Wood Art Today. For more information, or to request a brochure, visit www.AndrewMuggleton.com.