GREEN ART FAIR RETURNS TO MIAMI
because any action matters…
creating awareness through art and design…
the one-of-a-kind solar energy powered art fair…
Dec 2-7 , 2008 at 3101 NW Midtown Boulevard Miami FL 33127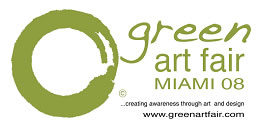 green art USA.org will be hosting the green art fair MIAMI'08 in Midtown Miami during the high art and design season in Miami Dec 2008, the one-of-a-kind solar energy powered art fair…
green art fair MIAMI 2008 will be an awe-inspiring, never-before experienced single point of contact for the art and design world, eco-friendly businesses and all individuals interested in moving the environmental friendly movement forward.
Introducing eco-friendly artists, curators, sustainable designers and galleries to new audiences internationally has made green art fair MIAMI the most comprehensive destination for the eco-friendly art and design world available anywhere.
green art fair MIAMI offers the 20 participating art and design galleries, art projects and attending eco-art collector's access to a unique environment and the ideal space truly superior to any of the other satellite fairs. It is the perfect platform for modern and contemporary galleries and design firms presenting art works and designs that bring new ideas for green living.
Sustainability, economy and efficiency are some of the positive implications that go hand in hand with using recycled/reused materials in art and design, yet the social and cultural implications of reusing materials in the context of art elicit strong support, and we believe, is one of the best ways to reduce waste. Art also is one of the universal languages that can help to stimulate human sensibilities to cause actions and reactions. Since the Dada movement of the early 20th Century, artists and designers have been re-using found objects as a way of commenting on consumer culture, industrial production and the meaning of art. Recycling as a design strategy is often associated with environmentalism, yet it is clearly is more complex than just a desire to tread lightly on the planet. green art fair MIAMI will highlight the different reasons and ways that artists and designers use reclaimed materials in their work and the different cultural implications that these varying strategies invoke. green art USA as an environmental friendly team has taken a number of additional steps to reduce the fair's environmental impact as part of our contribution to the green movement.
Our online application system and increased electronic communication have reduced the amount of paper used by fair organizers compared to previous years.
The 15,000 sf tent fabric is reused and aluminum recycled and is part sponsor by their Canadian enviro-friendly manufacturer International Tentnology Corp.
We will be using LEDs technology to light up the entire tent, sponsored by Visual Formula LLC. and Omni Stage LLC. All the power we will be using in our events everyday is going to be Solar powered sponsor by our mother Nature Sun, Green-Energy-Products Corp. , Electron Industries and Electron Solar Energy Corp.
We have a program to donate all the tent's interior design materials to the Habitat for Humanity cause. They will sell the donated items through their Re-store and be the recipients of all proceeds from the 100-Chairs-For-A- Cause Art Project. The goal of this unique art project, sponsored by green art USA, Valley Forge Fabrics and Waste Management Corporation, is to raise enough funds for Habitat for Humanity to build one low-income house locally as part of their Green Movement Miami Mission.
We are going to recycle all waste generated at the event through program sponsor Waste Management Corporation.
We will give away reusable shopping bags that are environmentally friendly, durable and effective to all the attendees. These bags will contain all the promotional material in the art fair and then can be re- used for grocery shopping as part or our campaign "because any action matters…" Concept created by green art USA with the generous support of sponsors: City of Miami, Valley Forge Fabrics and Soho Myriad Corporation.
New at the green art fair MIAMI 2008:
eco-mentaries – a new green art fair division where attendees are going to have the opportunity to appreciate short films from around the world that can move them just a bit further toward understanding a greener vision.
green design – another new division in the art fair for those who want to make life different, using design, reusing and recycling materials to change our impact for a better environment.
Smartket, a section in our pavilion dedicated to showcase products and services that will make people react and re-think before go shopping. green learning center – a space for those who want to learn what green practices mean and share their experiences with the rest of the world. Professionals will be doing talks about different topic (New Medicine, energy alternatives, new resources, etc, to help in our educational mission.
eco-Fashion Show – featuring imaginative designs created from organic, recycled, and sustainable materials. Famous designers from around the world will be together with models who support the green movement "beauty for the planet" , and are visionaries of the environmentally conscious fashion movement. Hair and Make up sponsored by Rocco Donna.
Our organic gourmet restaurant committed to creating and preparing gourmet foods that are organically grown and naturally produced.
As part of the green art fair MIAMI mission we will be supporting the following different organizations: 11 hours action (Leonardo Di'Caprio cause), the Natural Resources Defense Council (NRDC action), Habitat for humanity and Green Planet Search.
Every night Dec 3 to 6 from 8:00 pm to 12:00 am in our Green Lounge inside our unique Tent, we will be presenting the most incredible light art Installations, by the Visual Artist Nick Assunto, using LEDs technology, Music by different famous DJ's.
green art fair MIAMI is "the" opportunity for those who want to see and enjoy the world going green, for those who know or want to know more about our responsibility for the environment and for those who wish to see green solutions thought art and design. The art and design space is the ideal place to show everyone from around the world what the green art community is doing to help our environment and inspire others to go green.
Thanks to all our green sponsors for your support City of Miami Telemundo – NBC International Tentnology Corp. Green –Energy-Products, LLC. Electron Industries / Electron Solar Energy. MAM (Miami Art Museum) Waste Management Valley Forge Fabrics Visual Formula LLC. Omni Stage LLC. Eventstar University of Miami Hospital Spuntino Catering Green Division Covering etc. Eco-verings
Green Planet Search Segafredo VeeV Organic Vodka See eyewear Kool Bamboo Flora and Design Corp. Green Planet search

Visitors Information
Location: 3101 Midtown Blvd, Miami FL 22127
Events Schedule
green Carpet opening VIP Night party Tuesday Dec 2 7 pm to 12 am
first view Wednesday Dec 3 3 pm to 9 pm
eco-fashion shows Thursday Dec 4 11 am to 12 am
eco-mentaries Everyday during the art fair days
green launch Dec 3,4,5 and 6 8 pm to 12 am
Hours
Thursday Dec 4 11am to 8pm
Friday Dec 5 11am to 8pm
Saturday Dec 6 11am to 8pm
Sunday Dec 7 11am to 6 pm
Admission
green Carpet opening Night party invitation,
Art Basel or green art fair MIAMI VIP Card Only
first view $100 Free for VIP cardholders
eco-fashion show free with the general admission fee
eco-mentaries free with the general admission fee
One day fair pass $15
Multi-day fair pass $20
Students 12-18 years and Seniors $10
Groups 10 or more $10 each
Children under 12 years accompanied by adult Free
For more information about the green art fair MIAMI'08,
please contact green art USA team at info@greenartUSA.org