A B B A F I N E A R T
Wynwood Art District 233 NW 36th Street Miami, FL 33127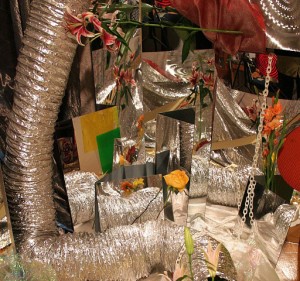 www.abbafineart.com
PETER MACKIE, Recent Photography
Nov 8th to Nov 22, 2008
Reception: November 8, 7 to 10 pm
Abba Fine Art is pleased to present curator, Milagros Bello, Ph.D of Curators Voice's selection of PETER MACKIE'S recent photographic images.
Peter Mackie's photographic images present scolding references to urban elements and recreate a constructivist world of tools and industrial materials in a rough and textured environment. Compiled in chaotic arrangement of a Baroque 'horror vacui', Mackie overload his photographic scenes with multileveled meanings from social allusions to personal memories. Surprises and discoveries unexpectedly appear in the diverse and delirious combination of incongruous and disparate elements, either relating to domestic life or to urban detritus. There is an excess of the visuality in his works, an exaggerated overpopulating of objects that reminds us the excess and accumulation of things in our consumer oriented society. Mackie is an obsessive collector of items that mostly they relate to its surrounding in the busy and overpopulated New York City. We can call Mackie's photographs 'natura morta', urban still life, or in the most extreme case, dead collectible. But in whatever sense we approach to these works, we know we are dealing with a contemporary 'vanitas' that alludes to the futility of life and its ultimate mortal essence. The ephemeral effects of these used and discarded articles link to death and disappearance.
For further information about this exhibition or for a private viewing, please contact the gallery at (305) 576-4278 or via email at art@abbafineart.com. For press inquiries and image requests, please contact ABBA FINE ART.
About Abba Fine Art:
Abba Fine Art's objective is to showcase samples of the diversity found in the creative flow of today's contemporary art scene. The gallery stable includes works from artists that deal with different aesthetics as well as ideological dynamics. The subjects represent different aspects of life, ranging from the organic and natural to the psychological, figurative and pop culture references.