Friends of Supermarket!
We are excited to bring to you our annual Halloween Event
As always fashion is a must! and what better muses then 60s icons!
We are pleased to bring to you Return to New Years Eve, 1967
Purchase tickets directly
For More Information: info@iheartsupermarket.com
Check out our blog! www.iheartsupermarket.com/wordpress
CIFO Art Space is located at 1018 North Miami Ave, Downtown Miami.
BECOME A CIFO MEMBER ON THE SPOT!
In five years CIFO has become a dynamic institution promoting cultural exchange through its exhibitions and events. As we celebrate this Halloween event, we invite you to support the ongoing success of one of South Florida's most vibrant art foundations.
Sign up in person at CIFO Art Space or visit their website: www.cifo.org
You can also contact CIFO by phone at 305-455-3380 and via email at member@cifo.org
All guests must be 21 and up. No exceptions.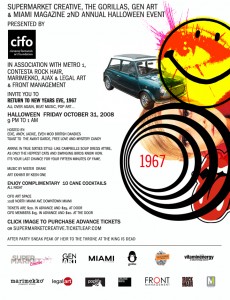 Supermarket
Gen Art
Legal Art
Metro 1
Front Management
Marimekko
Ajax