Please join us
Saturday, October 11th from 7:30pm-10pm
for the opening reception of:
Trisha Brookbank: Hurdling Through Space At Uncontrollable Speeds….
Diana Lowenstein Fine Arts
2043 North Miami Avenue
Miami, Florida 33127
www.dlfinearts.com
Trisha Brookbank is interviewed about her work in the "Studio Drive-By" documentary series, coming soon from Wet Heat Project. Watch the "A-Roll" video of Trisha in her studio, here: http://www.wetheatproject.com/preview/Brookbank_A-Roll.html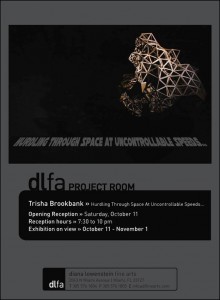 Diana
Thank you for using Soul Of Miami!