Fredric Snitzer Gallery : Lia Halloran Project Room : Opening Reception : Saturday Oct.11 7:30 – 10:00pm
Fredric Snitzer Gallery is proud to present "Dark Skate" a site specific project consisting of nine photographic images by, Los Angeles based artist, Lia Halloran
These photographic images are an exploration in drawing, performance and photography in itself. "The idea of drawing with light is not new as a concept, but Halloran not only immerses herself in the urban tropics, but makes herself the instrument to draw" Richard Arregui, Co-Director Fredric Snitzer Gallery.
The works are rich in color density and contrast, with the movement of light streaking across and around the visual frame. The photographs taken in low light situations allow them to become self-portraits of Halloran's movement. "Because of the darkness and film exposure length, there is no trace of my body, only the line created by my actions" Lia Halloran.
These works created over a period of seven nights in Miami with the collaboration of photographer, William Mackenzie-Smith.
Lia Halloran was born in Chicago, IL and attended UCLA for her BFA and received her MFA at Yale University, New Haven, CT. The artist currently lives and works in Los Angeles, CA.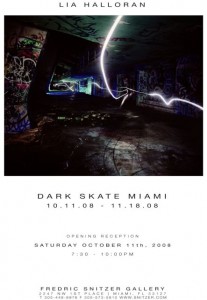 Fredric Snitzer Gallery
2247 NW 1st PL
Miami, FL 33127
T.305.448.8976
F.305.573.5810