El Salon Comedy Night
Tuesday, 11/21/2023-, 09:00 pm-11:00 pm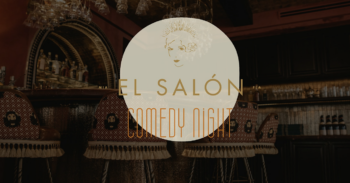 El Salon
1438 Washington Ave,
Miami Beach, Florida, 33139
Website
Cost: Free
El Salon is located in Miami Beach, an intimate cocktail bar inside Esme Hotel. Seating and Buy-One-Get-One-Free Drinks available with RSVP.
Step into El Salón, Miami Beach's most inventive cocktail bar tucked within the Esme Hotel, for an intimate comedy night that blends laughter with mixology every Tuesday at 9PM.
Full Bar Available: beers, wine, and crafty cocktails.
Fresh ingredients Italian food, view the full dining menu here: https://extravirginbistromiami.com/dinner-menu/Check out their tapas and drink selections here: https://www.esmehotel.com/dining/el-salon/#menu
Great Tuesday night out for date night, social get togethers, visitors celebrations, and co-workers!
Local Miami Standup Comedians Showcase with special guest appearances
Live Miami Stand Up Comedy every Tuesday in Miami Beach.
For exclusive discounts AND prizes to our comedy shows, text "MIAMI" to 772-774-3432
Ticketing options
1. Save on the bar tab, get the Buy-One-Get-One-Free Drink Wristband! $15 online or $20 at the door.
If you want to cut your drinks tab in half and save money, purchase the Buy-One-Get-One Free Drink Wristband.
Everytime you order a drink, the next one is on us until the end of the show!
Please note this is for select drinks such as beers, wines, and well cocktails. Please ask the bartender and waitstaff for complete list!
Get your seats reserved with priority seating! $15 online or $20 the day of.
Guaranteed comfortable seating for you and your guests!
Because of limited seating capacity, we now offer reserved VIP seating for those who RSVP with Priority seating.
Ticket packages
Get Priority Seating and BOGO Drinks Wristband for $25.
OR
Get Priority Seating, BOGO Drinks Wristband AND a T Shirt for $40.
OR
Get Priority Seating, BOGO Drinks Wristband a T Shirt AND a Miami Comedy Snapback Cap for $75.