YMCA of South Florida's Thanksgiving Giveaways (Miami-Dade)
Monday, 11/20/2023-11/21/2023, 02:00 pm-05:00 pm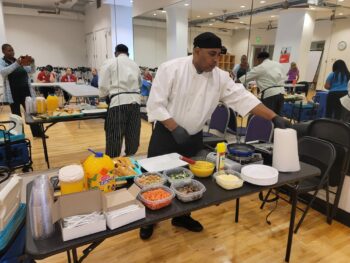 La Bodega Food Pantry Village of Allapattah at YMCA Family Center
2370 NW 17 Ave.,
Miami, Florida, 33142
Website
Cost: Free
The YMCA of South Florida will distribute free meals and host a luncheon for seniors at La Bodega Food Pantry during Thanksgiving week.
La Bodega, located at Village of Allapattah YMCA, is a community food pantry serving nearby neighborhoods. In 2023 alone, La Bodega has served over 30,000 residents and delivered over 400,000 pounds of food.
Schedule:
– Thanksgiving meal kit giveaway* / Monday, Nov. 20 @ 2-5 p.m.
– Luncheon for AOA (seniors)** / Tuesday, Nov. 21 @ 11 a.m. – 1 p.m.
*Through a partnership with United Way of Miami, while supplies last
**Onsite advance registration is required and limited space is available