Around the World…in 25 bite
Wednesday, 12/06/2023-, 08:00 pm-11:00 pm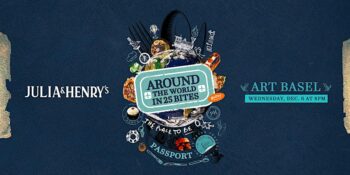 Julia & Henry's
200 E Flagler St.,
Miami, Florida, 33131
Website
Cost: 159-195
If you've ever wanted "just a bite" from each of Julia & Henry's 25 vendors, now is the time! From 8 pm to 11 pm on Wednesday, December 6th, we're issuing exclusive passports designed by Latin Grammy Award-winning designer Pedro Fajardo, which will be your all-inclusive ticket to explore all 25 of Julia & Henry's culinary concepts, each giving away its bestselling dishes. We're talking sweets from world-renowned pastry chef Yann Couvreur, burgers from local chef legend José Mendín at June, and famous fried chicken from James Beard Award winner Michelle Bernstein at Michy's Chicken Shack, all for one price!
As you journey from one vendor to another, you won't just savor a bite-sized dish at each stop; you'll also accumulate personalized stamps that will fill the pages of your "Palate Passport" and transform it into a cherished memento.
For those craving an even more exclusive escapade, Tier 2 awaits. In addition to the 25 bites, Tier 2 passport holders will indulge in three specialty drinks – one from each of our bars:
La Época – a specialty wine
BoxElder Craft Beer Market – Super Good Lager
The Lasseter – a craft cocktail exclusive for this event
But that's not all!
As you immerse yourself in this unique experience, our special DJ, the one and only Barbi Kolm, will be creating an enchanting atmosphere with a live painting performance interwoven into her DJ set. And on the 2nd and 3rd floors, we've arranged two massive canvases, inviting all attendees to join in a collective painting experience, where everyone can contribute to a one-of-a-kind masterpiece.
So, pack your appetite, your creativity, and your sense of adventure, and get your tickets to join us for a night of global flavors, exclusive sips, and artistic expression that will make this Art Basel weekend truly unforgettable!