Tasty Bites, Tipples & Treasures at South Beach Food Hall's Artisan Market
Sunday, 11/12/2023-, 11:00 am-10:00 pm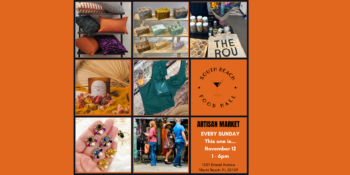 South Beach Food Hall
1601 Drexel Avenue,
Miami Beach, Florida, 33139
Eventbrite
Cost: Free
Strolling through Lincoln Road Antique & Collectible Market this Sunday? Stop by for a refreshing craft cocktail ($8!?) "Shaken but not stirred" by our lovely mixologists. Savor bites from 10 chefs like Crispy Rice Ropa Vieja from Dale Street Food to a succulent burger from Gutenburg. Satisfy your sweet cravings from 2 dessert booths. Then head over for a fun shopping experience, featuring an array of artisanal and handcrafted products, all under one roof.
Find that perfect item that suits your style from Jaspid Studio's designer cushions, unique jewelry from Pietra di Luna, free spirited clothing from Estilo Imago, natural handmade artisan soaps from C Beautiful Change and coconut wax candles from Ani+Co, Manantial Swimwear's mantra, "Whoever fits the bikini, wear it" is so apropos and effortless sustainable concept by The Rounds.
South Beach Food Hall is a beautiful place for locals to hang out. There's free WIFI or you can watch games on a huge video screen. Every Sunday, experience a variety of activities, some seasonal gift shopping and enjoy fun times with your family, the Food Hall is open from 11am-10pm.
Join us for the Artisan Market from 1-6 pm for our WEEKLY Sunday Artisan Market, located at 1601 Drexel Avenue, Miami Beach, FL 33139.
Come and make memories that'll leave your taste buds tingling and your soul nourished!