The Pool at Strawberry Moon Presents: Chizzle + Zillamatic
Friday, 11/10/2023-, 12:00 pm-06:00 pm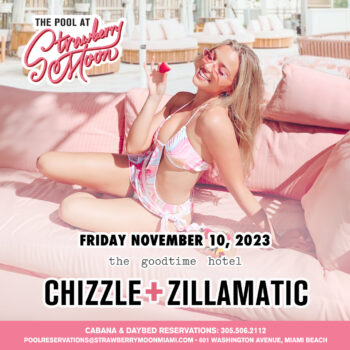 Strawberry Moon
601 Washington Ave,
Miami Beach, Florida, 33139
Website
Cost: $20-350
Strawberry Moon Pool presents: Chizzle & Zillamatic Pool Party – Friday, November 10th, 2023
TABLE RESERVATIONS:
Please note the dollar amount is a food & beverage minimum spend, which includes alcohol.
For table reservations, please call +1 305.506.2112 or email PoolReservations@Strawbe….
VALET:
Located at 627 Collins Ct, Miami Beach, FL 33139
DESCRIPTION:
Strawberry Moon is a new contemporary, high-energy Mediterranean restaurant, bar, and day-to-night swim club, tucked above the busy streets of South Beach at the newly opened Goodtime Hotel. Named for the last full lunar evening of Spring–on which the moon glints with a roseate hue–Strawberry Moon ultimately captures a unique Miami cross section of the happy, the hedonistic and the healthy.