Greater Miami Gardens: A Taste of Culture, Fashion Extravaganza & Scholarship Benefit
Monday, 11/06/2023-, 06:00 pm-08:00 pm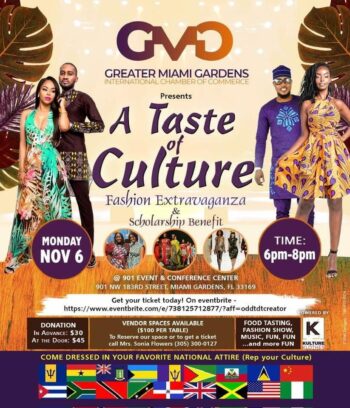 901 EVENT & CONFERENCE CENTER
901 NW 183RD STREET,
MIAMI GARDENS, Florida, 33169
Eventbrite
Cost:
oin us for a mouthwatering journey around the world at Taste of Culture! Discover the vibrant flavors and rich traditions of diverse cultures on 11/6/23 at 901 Northwest 183rd Street, Miami Gardens, FL, USA. Indulge your taste buds with a delectable array of international cuisines, prepared by talented chefs from around the globe. From spicy Mexican tacos to aromatic Indian curries, and everything in between, this event is a culinary adventure like no other. Immerse yourself in the lively atmosphere, as live music and cultural performances entertain you throughout the day. Don't miss this opportunity to experience a true taste of the world, right here in Miami!