Carousel Club Unveils K-Bop Bop by Mad Room Hospitality
Friday, 11/03/2023-, 04:00 pm-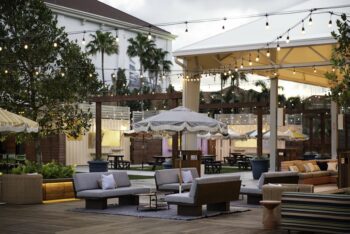 Carousel Club
901 S Federal Highway,
Hallandale Beach, Florida, 33009
Website
Cost:
Prepare your taste buds for an exciting journey as Korean cuisine's newest iteration arrives at The Carousel Club at Gulfstream Park in Hallandale, FL. Mad Room Hospitality, known for its prominent position in Miami's dynamic food and entertainment scene, proudly presents K-Bop Bop, a Korean BBQ concept that fuses traditional Korean dining with a contemporary twist.
With hotspots and eateries Ball & Chain, Mai-Kai, Los Altos Taquerias, and Taquerias El Mexicano, Mad Room Hospitality's commitment to authenticity, creativity, and community in South Florida is celebrated by locals and visitors alike. Up next for Mad Room Hospitality is the latest foray into the realm of "K-Food," with the announcement of K-Bop Bop, with plans for future expansion throughout the market.
K-Bop Bop takes guests through a culinary journey through Korea's rich gastronomic heritage. Dishes include crispy Yangnyeom Dakgangjeong (Korean Fried Chicken Wings) coated in a harmonious sweet-spicy sauce, versatile Bibimbap bowls, savory Bulgogi (grilled skirt steak), fiery Dak Galbi (boneless chicken thighs) and aromatic Samgyeopsal (pork in a garlic-soy glaze), among others. Plant-based options include Yachae Bokkeum (sautéed vegetables) and savory Dubu Gangjeong (vegan tofu).
Zack Bush of Mad Room Hospitality says, "Our ultimate goal has always been to inspire, create, and celebrate authentic experiences with our concepts here in South Florida. Now, with K-Bop Bop, we extend an invitation to enjoy our latest creation, celebrating the flavors of Korea with us at The Carousel Club at Gulfstream Park."