JWMT Launches New Weekend Fitness Course
Friday, 09/01/2023-, 06:00 am-09:00 am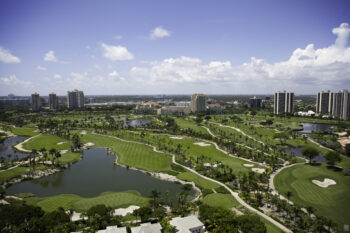 JW Marriott Miami Turnberry Resort & Spa
19999 W Country Club Dr,
Aventura, Florida, 33180
Website
Cost: 30.00
WEEKEND WARRIORS REJOICE: JW MARRIOTT MIAMI TURNBERRY RESORT & SPA LAUNCHES NEW WEEKEND FITNESS COURSE
Renowned for its luxurious spa and wellness center and state of the art fitness center, JW Marriott Miami Turnberry Resort & Spa takes it to the next level, encouraging fitness buffs to test their mettle with the launch of a new Full Functional Fitness Course. The program will debut Friday, September 1 – Sunday, September 3, 2023 and take place on subsequent Saturdays and Sundays.
Helmed by Coach Tait Smith of Sweat Athletix, the course will be set up on the resort's Palm Court Lawn and run from 6AM – 9AM. Participants can show up anytime within that time frame to take part in the individual challenge, with the last call time at 9AM. Weekend warriors are invited to challenge themselves at 27-30 stations, each offering a one minute drill; with the total course time set to run at 42 minutes. Designed to accommodate all fitness levels, the specially designed course promotes balance, agility, endurance, cardio and core strengthening.
Available at no cost to guests of the resort or Turnberry Isle Club members; âme Spa guests and local fitness enthusiasts can take part for $30, which is payable upon arrival after signing a digital waiver. Complimentary/validated self-parking is included. There is no advanced registration. For more information, please contact âme Spa at (305) 933-6930.
Media Contacts:
Brustman Carrino Public Relations
turnberry@brustmancarrinopr.com
305-573-0658
About JW Marriott Miami Turnberry Resort & Spa:
Tucked away on 300 acres between Miami and Fort Lauderdale, JW Marriott Miami Turnberry Resort & Spa is a tropical oasis with a culture of accessible luxury and enriching experiences. The resort is renowned for its two championship golf courses redesigned by Raymond Floyd, the state-of-the-art âme Spa & Wellness Collective waterpark Tidal Cove, Celebrity Chef Michael Mina's award-winning BOURBON STEAK restaurant, CORSAIR kitchen & bar,121,000 square feet of meetings space, and the engaging Turnberry Kids camp all within reach of 685 spacious guest rooms and suites. JW Marriott Miami Turnberry Resort & Spa is a part of Marriott's exclusive JW Marriott portfolio. The resort has been a multi-time recipient of the Conde Nast Traveler Readers Choice Award and US News & World Report's Best Hotels; and was named to Travel & Leisure's World's Best in 2023.
Notice: Turnberry Development, LLC is the owner of the Turnberry® trademark but has no affiliation or involvement with the JW Marriott Miami Turnberry Resort & Spa and the Turnberry Isle Country Club other than the licensor of the Turnberry trademark.