WBHI Pink Walk – 5 K Run and Walk
Sunday, 09/24/2023-, 06:00 am-10:00 am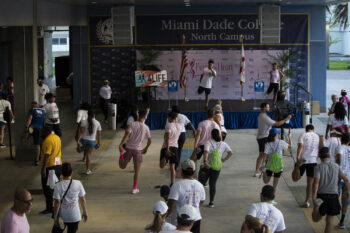 Miami Dade College – North Campus
11380 NW 27th Ave,
Miami, Florida, 33167
RSVP / Register
Cost: $35
The Women's Breast & Heart Initiative 7th Annual Pink Walk returns this year with its 5K Run and Walk hosted by Miami Dade College at the North Campus. Leading into Breast Cancer Awareness Month, Pink Walk 2023 invites the community and their families to raise funds for breast cancer prevention and early detection.
Runners, walkers, and joggers can help transform and save lives, one step at a time, while providing at risk women, college students and low-income populations with the resources necessary to help beat the odds of breast cancer.
Supporters of the WBHI 7th Annual Pink Walk can also participate virtually in the 5K Run and Walk around their neighborhood, or at the park, beach, or other convenient outdoor location.
All participants are also empowered to play an active role in helping to transform and save lives by setting up a personal fundraising page. Special swag will be awarded when participants raise $50, $100, and more, helping WBHI get to its $100,000 goal.
Proceeds will benefit the Women's Breast & Heart Initiative for its grassroots community services including early detection, health education, care coordination and patient navigation.
On-site participants at Pink Walk will have special access to order a pre-sale voucher, with just their vehicle tag number on-hand, for the beautifully designed WBHI designated license plate that supports Disease Prevention & Early Detection, flbreasthealth.com/licenseplate.
Upon production, the specialty license plate will provide increased education and awareness relating to early detection, prevention, and screening of breast and heart issues.
6:00 a.m. Registration / Snacks, Food Truck, Sponsor Samplings, and DJ
7:00 a.m. Opening Ceremony with Emcee Constance Jones, News Anchor & Reporter for NBC 6
7:30 a.m. Race Kickoff