World AIDS Museum's Community Dialogue: "Meet the Queens: Up Close & Personal"
Tuesday, 05/09/2023-, 07:00 pm-09:00 pm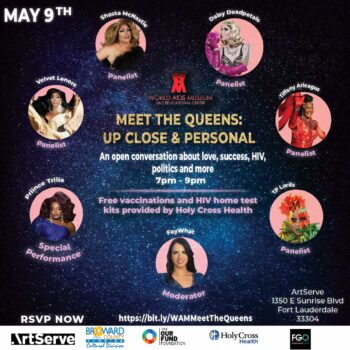 ArtServe
1350 E Sunrise Blvd,
Fort Lauderdale, Florida, 33334
Website
Cost: Free
World AIDS Museum and Educational Center is relaunching its Community Dialogue Series with a dynamic and thought-provoking live chat and panel discussion entitled "Meet the Queens: Up Close & Personal." The free special event, in collaboration with Holy Cross Health, will take place on Tuesday, May 9, from 7 to 9 p.m. at the Our Fund Foundation Auditorium at ArtServe.
The open forum will feature a diverse group of esteemed entertainers, including Velvet Lenore, Tiffany Arieagus, Shasta McNastie, TP Lords, and Daisy Deadpetals, who will share their unique perspectives on a range of topics, including love, success, politics, and the impact of HIV within the drag community. The forum will be moderated by Fay What, a lesbian television personality and host of The FayWhat?!, a popular YouTube channel that unites the LGBQT+ community, and anchor of "Queer News Tonight" on the Happening Out Television Network.
Attendees will enjoy light refreshments and beverages, and Holy Cross will provide free HIV home kits and vaccinations onsite. The event will also feature special performances by Priince Triila and the Florida Grand Opera.
World AIDS Museum and Educational Center is committed to promoting awareness and understanding of issues related to public health and social justice. The Community Dialogue Series is an essential part of the museum's mission to facilitate meaningful conversations about important topics affecting communities today.
To RSVP for this free event, visit https://bit.ly/WAMMeetTheQueens.
For more information about World AIDS Museum and Educational Center's Community Dialogue Series, call (954) 390-0550 or visit www.worldaidsmuseum.org