The Spam Allstars in Collins Park Sunday
Sunday, 02/26/2023-, 05:00 pm-07:00 pm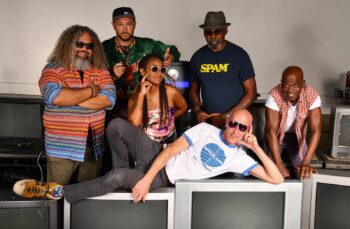 Collins Park
2100 Collins Ave,
MIAMI BEACH, Florida, 33140
Website
Cost: Free
The Collins Park Neighborhood Association and the Global Arts Project present the Spam Allstars in Collins Park at 5 PM Sunday Feb 26 in the first free Artscape concert of 2023. The Allstars have been at it for 20+ years.  The band has a core group of musicians who have been performing an average of 150 shows per year, across the US and some very special trips to Europe, Canada, South America and South Africa.  They held a weekly residency at the legendary Little Havana club Hoy Como Ayer every Thursday for 15 years which attracted everyone from Good Morning America to the NY Times, a variety of celebrity appearances, and numerous musical special guests sitting in. As time has passed the songs have evolved, recordings have been made, and the sound took on a different form which is a distinct blend of Latin, funk, and electronic music.  This electronic descarga is a reflection of the musicians and their cultures, training, and musical influences.
"An authentic Miami sound is being forged by [the Spam Allstars]…"
– Rolling Stone
"A good old Latin jam, a "descarga', with the same spirit of Cuba where descarga originated."
– BBC
Miami's favorite DJ, Adora, will open the show at 3:30. There will be food and beverage vendors on hand for refreshments. It's Family Day at the Bass so be sure to bring the kids.
Video: https://www.youtube.com/watch?v=QffUqKm4UTo